The Originals: Christian Lacroix
In conversation with the designer about working with Dries Van Noten, his style icon (The Queen of England), and what originality means to him.
Photographs by Rosie Marks
---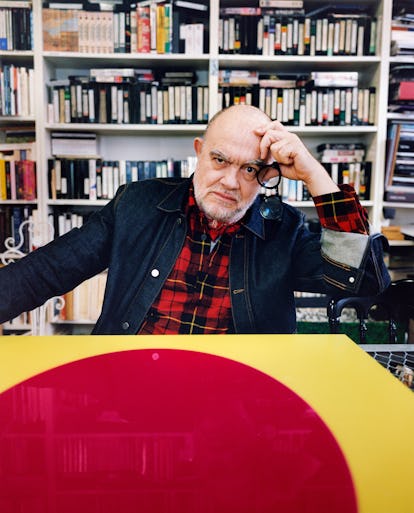 Grooming by Delphine goichon for Dior at backstage agency; Retouching: Letouche Imaging.
Dries Van Noten invited you to partner with him on his current collection. Afterward you said that had been your "last day in fashion." Given how well-received the show was, do you still feel that way?
Yes. It was great and fun because it was just one shot. It was not a "collab," as they say everywhere now. We found the right word after: It was a "conversation" on summer, allure, the attitude of the time. It helped me see my work more clearly, to consider my 30 years of couture for the first time. On Instagram, I saw how people reacted and how important it was for them. So now I feel out of purgatory when facing my own work. I was not self-confident about it at all before. I can close the book on a wonderful, happy, moving note.
What was the process like?
We are two shy Tauruses. I went to Antwerp and we worked together, mixing and matching fabrics, adding lace or embroidery, freely draping, taking pictures, putting feathers in the models' hair. We were like children playing, speaking without so many words, finding our mutual language step-by-step.
Your first New York fashion show, staged in 1987 in the Winter Garden of the World Financial Center, took place a week after the market crashed. What do you remember about that night?
I remember a woman showing me a building and telling me that her husband's business partner committed suicide by throwing himself out the window a week before. I remember the ladies who lunch, as John Fairchild called them—amazing, young, spirited, brilliant, enthusiastic, beautiful, elegant women. I remember the New York magazine cover, with all the girls and me in a tuxedo with an evil eye, with the headline "Dancing on the Lip of the Volcano." It was the epitome of the '80s: the last big party before the crisis, they said. So it was bittersweet. But I was not myself. It was as if I were my own twin, watching myself play the part of "the French couturier in New York"—as if I were in an American Technicolor movie or musical from my childhood. (Time to go back to the psychologist's couch, now!)
Lately you have been working on costumes for opera and ballet. Does designing for the stage allow you to express yourself in a different way?
I was lucky to start during a decade when everything was operatic, loud, and theatrical, with eccentric people, extravagant princesses, big masked balls. It was sometimes vulgar, but there were also these very sensitive, cultured, wealthy women like Marie-Hélène de Rothschild, who supported me a lot. Making clothes for all these types of clients was like doing costumes because they were acting on the stage of their own life. So now, when I design for La Traviata, Madama Butterfly, or Cinderella, it's for real, with even fewer limits.
What's the best fashion advice you've ever received?
Fashion is like a banana: Too early is as bad as too late.
What does originality mean to you?
Good surprises, astonishment, rareness, freedom, being alive, normality.
Who is your style icon?
The Queen of England, because of the colors she wears.
What do you love the most about fashion?
I love when everything comes together in an indescribable way—when you feel, That's it. It's amazing, new but already familiar, attractive, unavoidable.