The Photograph Is the Latest Entry in the Black Romantic-film Canon
The Photograph's director, Stella Meghie, explains her process of making a film that references the classics of the black romantic-film canon.
---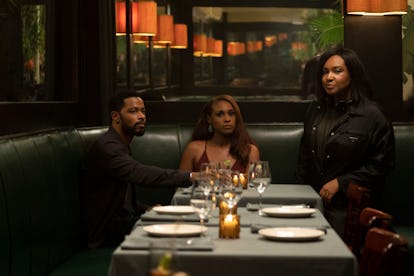 The Photograph opens with a VHS tape of a woman sitting in her 1980s kitchen, talking about love. As the film comes into focus, it is revealed that this is, fittingly, a frame narrative that tells the intergenerational story of the frayed thread between a woman named Mae (Issa Rae) and her recently deceased mother, Christina (Chanté Adams).
Lakeith Stanfield enters the fold as Michael, a New York–based journalist on assignment in present-day New Orleans, who discovers a photograph taken by Christina and finds there's a bigger story to be told about the woman who uprooted her life to move to New York in pursuit of professional dreams—and to raise a daughter named Mae. Michael's journalistic attempts lead him to meet Mae, now a very chic career woman who works as a curator for the Queens Museum.
Christina's life as an ambitious young photographer who falls in love with a man named Isaac (played by Insecure's Y'lan Noel) and leaves him behind is told through the final, confessional letter she leaves for Mae before her death. In the present, Michael and Mae find themselves falling in love.
In The Photograph, there are clear references to the late '90s and early '00s films in the black romantic drama canon: the cult favorite coming-of-age rom-com Love & Basketball, Love Jones (another film centered on the romantic escapades of an aspiring photographer, played by Nia Long), and even The Watermelon Woman, Cheryl Dunye's docu-drama hybrid.
But The Photograph is not a typical romantic comedy—though Stanfield confessed over the phone that he, too, is a fan of Love & Basketball, and said the best part of playing the lead in a romance is "being there to talk about love, and tap into an audience I hadn't tapped into before".
The film's director, Stella Meghie, spoke to W over the phone as well, about the process of making the film. While initially billed as a somewhat formulaic story of the romance between the immensely likable Rae and Stanfield's characters, it's ultimately a surprising and tender take on the love between a mother and a daughter, and the ways—decades apart—in which their quests for career success sometimes gets in the way of their quests for romantic love.
Where did the idea for The Photograph come from?
The inspiration for The Photograph was kind of personal, but not actually what you would think, not necessarily a romantic love. I was thinking about my grandmother, and she'd had a daughter when she was really young who'd gone to live with her father. She was in Jamaica, and her daughter went to Germany and she didn't see her again for like 40 years. Around the time I was thinking about something to write, they were going to meet again for the first time. I'd just met her, I was living in London and she was living in London at the same time. They were so nervous to meet each other. I thought to myself, Wow, circumstances kept them apart, but imagine loving someone and thinking about them every single day but not seeing them for that many years. That was kind of the emotional kernel of this idea of Christina and Isaac being separated for 30 years, and always thinking about each other but not having seen each other. This kind of unrequited love, and in the case of my grandmother and her daughter it was a mother and daughter bond, which I also explore in the story.
How did you make the jump in the story from familial love to romance?
I love writing romantic films. I love writing about family. When I'm in the process of a story coming together, it's usually a lot of different personal moments in my life and blowing them up and fictionalizing them, and putting them into different characters. Just really taking the seeds of what I was thinking about and fictionalizing it. It starts there with that idea of being separated for all these years, and then I started thinking about Hurricane Sandy and what it would be like to spend a night with someone you were just getting to know. Those two things were kind of the center of the process. We started building out the world and imagining their friends and significant others and bosses. It's a fun gestation process of putting people you know into the story and fictionalizing it all together.
Why was New Orleans so central to the plot?
I really wanted to juxtapose the city life in New York. I wanted to separate her from her mother. My family is Jamaican, and they immigrated from Jamaica to New York and Toronto. That is a personal history that I put into it, this idea of Christina migrating north to reach her goals. The things that you have to leave behind. My grandmother, she moved from Jamaica to Toronto, and her kids—my mom and my aunt—weren't able to come for a few years. That's a history I understand, moving from where you were born to reach a different life.
What films, if any, inspired your process for this one?
All of my favorites are always in my head. They always inspire and talk to each other. Of course, Love Jones is such a huge…in the romantic black canon, there's no bigger film to me. That was a huge inspiration. You mentioned Love & Basketball, and no one does family drama better than Gina Prince-Bythewood. And that is something that has stuck with me, how to show these layered, imperfect families onscreen and have empathy and honesty. Mo' Better Blues—that jazz, and different relationships, and completely imperfect people trying to fall in love. They're all in me. You watch certain films over and over again, and there's no way not to be inspired by them when you write and direct.
How did you get Robert Glasper to do the score?
It was such a dream to have him. I met him two years prior. He was performing at a house, at this mansion in Los Angeles, it was a living room performance for my agency. I went up to him and introduced myself and said I was doing this movie, and he was like, "And you want me to score it?" I was like, "Absolutely!" Then, I really came knocking two years later, like, "I'm really doing that movie, and I really want you to do it." [Laughs.] We were in New York and met at Bar Pitti, and I knew we were going to get along because we wanted all the same food and were happy to share it. He's an absolute musical genius. And he's hilarious. We had the most fun, brother-sister banter, picking on each other making this film. It's beautiful. There's one piece that he wrote as Mae is reading the final letter, and I remember I was trying to act professional and tough, and they did the song and he left with his band to have lunch upstairs. I said I just had to make a call, but I broke down crying. It was the most beautiful thing I had ever heard, and to be there and see him freestyle it, I was just like, How? Who does this? He is one of our best musicians alive. I hope people will enjoy it and dig into jazz. We have some of the best jazz players right now on the soundtrack.
You have worked with some of the same cast on other projects, like Y'lan Noel and Issa Rae on Insecure. Did you write the film with Issa and Lakeith in mind? People in the theater vocally responded to seeing Issa appear onscreen.
Yes, she came out gunning in a Dries Van Noten jacket! This is one of the few films I wrote without anyone in particular in mind. The script was sitting around for a little bit. I had just done an episode of Insecure when it was starting to pick up steam and look like the studio wanted to make it. I'd had a great time working with Issa on the episode, and got to see the different tones to her performance up close. When we started casting, it felt very natural: let's add Issa and see if she'd be interested in this. She ended up signing up right away—within a week she was like, 'I love this.' She agreed to sign on. From there, we tried to figure out who would be the right Michael for her. I ended up Skyping with Lakeith because I was in New York and he was in L.A. I am a huge fan of Atlanta, so in a way, I kind of pictured him as that guy and didn't know what to expect. When we got on the phone, he was so soulful and so thoughtful. We had this very intimate conversation about relationships and love and figuring things out. I was like, He is Michael. After I spoke to him, I could not imagine anyone else playing him. They ended up reading together to see how they felt, and seeing her with him, as soon as they start speaking to each other…they did that scene where they go on their first date, and I smiled from ear to ear for literally four minutes. I was like, This is the couple that I couldn't have even dreamed of.
The audience I saw the movie with really responded to the first date conversation about the merits and pitfalls of stanning Kanye, Drake, or Kendrick. Has your family seen the movie yet?
No, my family has not seen the movie yet. I always think I write them into my films a little bit, but they never see themselves in it. It's hard to say. It's very hard to predict what my mom and aunt will ever say. They're very supportive and proud, so that's as much as I can imagine. We'll see what they think about the film. My aunt is very much a sap and I'm very close with her, so if it makes her cry, I'll know I did it.
Do you have a message you'd like people to take away from the film when they see it?
There are many messages. I hope they see black women as vulnerable. You don't often get to see that on the screen. They often have to be so strong, so magic, saving everything. This is one of the few times you get to see a black woman as a lead be vulnerable and break down, and grow. I hope that kind of intimate experience translates.