The Prom Has Meryl Streep Doing Her Best Shirley MacLaine Cosplay
According to new photos from Netflix, it looks like Ryan Murphy's The Prom makes a reference to Postcards From the Edge.
---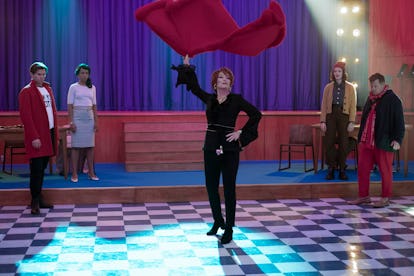 The coronavirus pandemic hasn't stopped Ryan Murphy from being one of the busiest men in Hollywood. The show runner, who has eight shows shooting back to back this fall, and recently debuted his adaptation of The Boys in the Band last month, also has one other big film coming out on Netflix this year: The Prom.
An adaptation of the Tony-nominated Broadway musical, this addition to the Murphyverse will follow a lesbian teenager who wants to bring her girlfriend as her date to her Indiana high school's prom but faces problems when her high school's administration tries to shut her down. In the process, a group of down-on-their-luck Broadway actors get involved in her cause. The cast includes Jo Ellen Pellman and Ariana DeBose as the high school teens, as well as Meryl Streep, Nicole Kidman, James Corden, Keegan-Michael Key, Andrew Rannells and Kerry Washington.
As far as the first look photos go, they don't necessarily reveal too much about what's in store for the film (aside from, well, a lot of razzle dazzle). But what stands out is Streep's costuming and hairstyle, which is really giving Shirley MacLaine in Postcards from the Edge if you look closely enough.
In Postcards from the Edge, Streep famously played MacLaine character's daughter (the characters were loosely based on Debbie Reynolds and Carrie Fisher, who wrote the screenplay and semi-autobiographical book the film is based on).
Streep's costuming is likely the handiwork of Lou Eyrich, who works on the costumes for most Murphy shows, like Ratched and The Politician. Even if the reference was unintentional, we can't help but wonder if or when MacLaine will be announced to star in an upcoming Murphyverse project after this.
Related: According to Zachary Quinto, The Boys in the Band Is More Timely Than You Might Think