The Revered Miracle Lift Claims to Cure Resting Bitch Face, and It's Changing the Fashion Industry One Jawline at a Time
Our writer was skeptical of the famous holistic facial that counts Christy Turlington, Michael Kors, and photographer Inez van Lamsweerde as fans. But after she tried it, she saw her 25-year-old self smiling back in the mirror.
---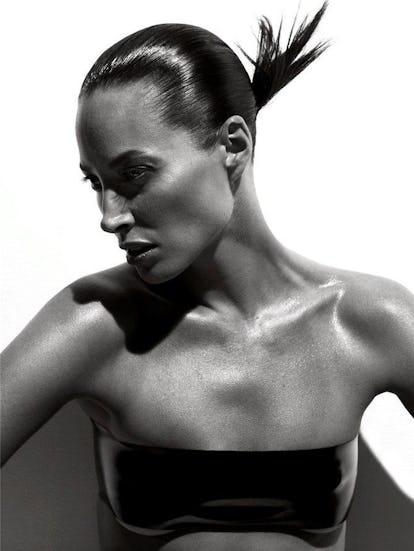 Photo by Michael Thompson.
There are worse ways to spend an hour than having Candice Forness work on your face. As you lie on a comfy massage table wrapped in a blanket, Forness implements her fingers, thumbs and hands in a variety of movements that first relax, then aim to retrain your facial muscles with her curiously impressive Miracle Lift. Part lymphatic drainage, part acupressure and part Swedish massage, the treatment is 100 percent and totally indulgent.
"You don't feel like you're being pummeled and mauled," Dick Page, a fan, told me. "I don't usually go in for that kind of stuff. I'm not a very spa kind of person, but it was so relaxing. I fell asleep."
When Page woke up and went on his way, he took a look at his face, took a selfie and immediately sent it to his husband James. "I just had this glow. I thought, 'Well, that was kind of amazing.'"
Based on Ayurvedic principles, the Miracle Lift eases muscle tension, soothes eye strain, decreases puffiness and can even alleviates sinus issues. But it's the lifted appearance that's got high-profile fashion clients talking.
"I definitely saw a difference the first time she treated me," the photographer Inez van Lamsweerde recalled. "My face looked lifted and I looked like I'd slept for days."
Van Lamsweerde first learned of Forness through Page, who ran into her and Vinoodh Matadin's studio manager Marc Kroop after his treatment. "Marc looked at me and said, 'Well, you look great. What did you do?'" Page recalled. "I told him it was this woman who contacted me on Instagram."
And that's how she reached me. "Holistic facelift?! Yes!" she wrote over direct message. "Let my magic hands lift you up!"
Forness is a delightful force of nature. The bubbly, tattooed 44-year-old former dancer got into this work because of her other gig, makeup artistry, which she's practiced for 17 years.
"Most of my clients' main concern was aging," she told me. "I could make them look great with makeup, but I wanted to help them even more, and I wanted to do it in a natural modality that agreed with my aesthetic. I'd traveled to India several times, so I knew it existed."
After much researching, she found Denise Galon, an Ayurvedic specialist who taught Forness the Ayurvedic Face Lift Massage method.
"Denise was also my first case study. Watching her face transform over the course of six treatments was mind blowing," Furness remembered. "I remember thinking, 'A holistic facelift in the form of massage?! Who doesn't want that??'"
A lymphatic drainage face massage is nothing new; it's often incorporated in anti-aging facials, but Forness is not giving a facial. There are no steams, scrubs, extractions or contraptions. Just her hands, and maybe a little oil or moisturizer if skin needs it (she favors Uma, Mai Lindstrom, Pai and Leland Francis). Should you frown from a thought or something you're saying during the treatment, she'll rub a thumb over the subsequent crease or wrinkle it creates and quietly comment, "Man, girl. Your mind is going non-stop."
Talking is, pardon the pun, frowned upon during the treatment. "I get much better results when clients zone out," she explained. "And the energy I get from clients energizes me."
"She's a bit nutty, but she's legit," said Jessica Richards, owner of Shen Beauty in Brooklyn, who hired Forness to give treatments at her boutique after she received one herself. "She explained about retraining the muscles, which totally makes sense to me. I think my favorite part is the neck lift because lord knows no one wants a turkey neck!"
She and van Lamsweerde both compare Forness's work to micro-current, the electrically-charged facial tightening devices many top facialists, including Tracie Martyn, Joanna Vargas and Aida Bicaj use in their lifting treatments. Forness doesn't profess that her hands are plugged in; rather, she sees them more as a personal trainer.
"It's essentially a stress-free workout for the face," said Forness, who also counts designer Michael Kors and stylist George Cortina as clients. "But just like working out, you have to keep coming back."
Six to eight sessions are recommended, each no more than a week apart. After that, she likes to see clients once a month for maintenance.
Sounds like snake oil? This skeptic was certainly skeptical. I've lost track of the number of times a facialist has held up a mirror to my supine face after doing one side of it and gasped, "Look at that! Can you believe the difference?"
I never see the difference. Sometimes I lie outright and say, "Oh, yeah!" because I can't wait to get out of there. Other times, I'll twist my mouth into a slow and questionable "Yeah…?" which basically says, "Not really, but obviously you do?" When Furness held up the mirror, I did not see a difference and I said so.
"God, I love your honesty!" she exclaimed, and with determined glee, she gently turned my face to its other side with her deft hands and completed the work. When she was done, I was a convert. Something had happened. Looking at my face in the bathroom mirror afterwards, my 25-year-old self smiled back at me. It was more than a glow. My face had lost its hardness, its fatigue and its perpetual resting bitch face. After session two, my lips felt fluffier. By session four, I saw a more pronounced jawline. After session six, I was dutifully practicing the lion pose expression that she explained would help things stay lifted.
"Making out is also great for the face, especially for the lips," Forness said, laughing. "Who doesn't love making out?"
Will Forness's hands (coupled with doing the silent scream face and French kissing) keep my mug away from the needles in the long-term? Time will tell. For now, I have no appointments with my dermatologist scheduled in my calendar.
Van Lamsweerde, who staunchly wants to avoid cosmetic procedures, hopes work like Forness's will encourage women of a certain age to accept aging organically and, with help from the Miracle Lift, gracefully.
"We have no female role models over 50 who haven't done anything to their faces," she told me. "I talk about this with all my friends. Who's around who hasn't lifted her face, or used fillers or anything and looks incredible? Apart from Diane von Furstenberg, I really don't know anyone. Conversely, though, I haven't seen an example of someone who has done all that and aged well, either."
She cited friend Christy Turlington as a fellow procedure virgin. "She once told me she would not want to do anything invasive to her face, mostly because she wants to see what she looks like as she keeps aging," van Lamsweerde said. "Of course, she has the best face in the world to start out with, but I agree with the sentiment. I want to see what my face looks like."
Forness takes van Lamsweerde's words to heart. "I feel so strongly about lifting women up to feel good about living in their own natural beauty," she gushed. "Especially in these times, I know this is my mission."
Kendall Jenner Dramatically Reads Nicki Minaj's "Super Bass"