The Scene at Zona Maco 2017, Mexico City's First Major Art Fair in the Donald Trump Era
The Zona Maco 2017 art fair opened this week amid calls of #NoBanNoWall.
---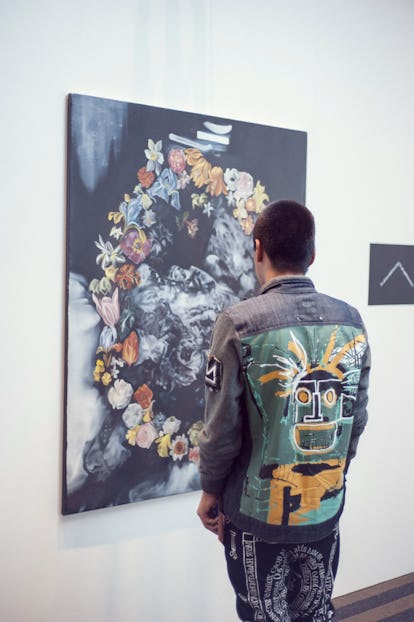 As calls for #NoBanNoWall rang out on social media and across U.S. cities, the 14th edition of the Zona Maco art fair kicked off on Wednesday in Mexico City, with an international flock descending on Latin America's art capital. While most exhibitions and dealers at the fair stayed out of the political fray, criticisms of Trump's proposed border wall from every nationality were never far out of earshot—or, in some cases, on full display in the booths. Here are the highlights from Mexico's biggest week in contemporary art.
Trump, Of Course Most American dealers held back from direct Trump criticism with apolitical work on view, but multiple Mexico City galleries addressed the issue head-on. An Instagram favorite was Rirkrit Tiravanija's wall-size installation at Kurimanzutto lampooning Trump with provocative clippings from Mexican newspapers against a backdrop reading "Less Oil More Value" in Spanish. Mexico City's politically minded Parque Galeria showed work from Yoshua Okón's current solo show about George H.W. Bush-led CIA interventions into Latin America as precursor to Trump's America.
#NoWall Of the myriad political crises at hand, the proposed border wall between the U.S. and Mexico was definitely the most talked about topic at the fair. Most Mexican artists and dealers are unfazed, noting the rhetoric is nothing new to them, but opposition still permeated the booths. At MAMA Gallery, "#nowall" appeared on the partition separating the L.A.-based gallery from Galería Emma Molina, based in Monterrey. Henrique Faria Gallery of New York and Buenos Aires showed 1960s and '70s works by Humberto Marquez, including a graphical poster reading "America for Latin Americans." At Material, exhibitor Special Collections sold "All Walls Fall" T-shirts to the hipster crowd.
Open Borders Despite the rhetoric of the new U.S. president, the flow of communication and people across the U.S./Mexico border were open as far as the fair was concerned. Multiple dealers based in the U.S. showed at the fair this year for the first time, such as the newly branded Lévy Gorvy and Sean Kelly, joined by other new blood like Tina Kim, Canada, and On Stellar Rays. Out of the nearly 120 exhibitors, roughly 30 had locations in L.A. and/or New York. At times, walking the aisles felt more like an Armory or Frieze than a regional fair.
Material Art Fair Grows Up The fair often described as an art-centric rave doubled the venue size without increasing the number of gallerists, giving it a feeling of refinement. Now in its fourth year, the younger, more experimental sibling of Zona Maco featured an international spate of galleries from Lima to Little Rock, with a pop-up of Lower East Side bar Beverly's just around the corner. The fair attracted heavyweight patrons, too, as Kim Gordon as well as Art Basel's Noah Horowitz were spotted roaming the isles.
#DearIvanka Takes Mexico At Material, Mexico City's Galeria Mascota showed a booth from Lizzi Bougatsos and Sadie Laska that called out Ivanka Trump directly. Bougatsos, a #DearIvanka collaborator, manipulated imagery of Ivanka Trump alongside lyrics from her band I.U.D. A blown-up image of smiling Ivanka smacked with awkward braces made the rounds on Instagram.
The Other Dominant Topic of Conversation: The Traffic Maybe blame the city's notorious traffic—often called the worst in the world, with more than five million cars on the road—but the opening day seemed less chaotic than the average convention-hall-size fair kickoff. Many locals noted Mexican time, and, true, it's common for deals to go down in the last days of this fair. But most insiders confided the fair is more about brand awareness than big sales. Particularly given Brazil's weakened art market and the continued strength of the dollar against the peso, it's safe to say the fair will remain Latin America's main draw.
Women's March A refreshing jolt of color—and a break from fair-standard male blue-chip artists—came in the form of a strong showing of young female abstract painters from the U.S. At Venus, there was Katherine Bernhardt, Marina Adams at Salon 94, Mattea Perotta at MAMA Gallery, and Julia Rommel at Overduin and Co. One could see it as pointed trend after a January marked by protest, but here's hoping this becomes the norm for international fairs.
Guadalajara Rising A number of striking booths came from Guadalajara-based galleries, such as Curro, where Octavio Abundez's dystopian mashups of atlas cutouts announced "Perfect Capitalism" and "Everyone is Rich." They were joined by Tiro Al Blanco, Páramo, and Travesia Cuatro. The fair's New Proposals section of artists under 36 years old was also curated by the young Guadalajara-based curator Humberto Moro. The same went for standout shows around town: Arredondo/Arozarena put up a show by Guadalajara-born artist Israel Martínez dealing with the city's 1990s punk scene, while Josegarcia's main space showed paintings and installations by Guadalajara-based Eduardo Sarabia.
Blue-Chip Blowups Bigger is better in Mexico when it comes to blue-chip art. Bosco Sodi's solo show "Elemental" at Museo Anahuacalli included a large-scale installation in the museum's courtyard space, while at the Museo de la Ciudad de México, Lawrence Weiner's "Forevever & a day" includes a massive text-based work sprawled across the museum plaza and in Zocalo, the city's main square, as well as interventions around town. At Museo Jumex, General Idea, the Canadian art collective formed in the late 1960s, added giant blow-up capsule pills to the exterior of the museum, a megasize lampoon of Damien Hirst.
Photographers "Always Ask" Kate Moss to Take Her Clothes Off