The Secret to Being a Modern Pop Star? A Creative Director Pulling the Strings
Meet the individuals responsible for keeping Beyoncé, Kanye West, Rihanna and Drake cool.
---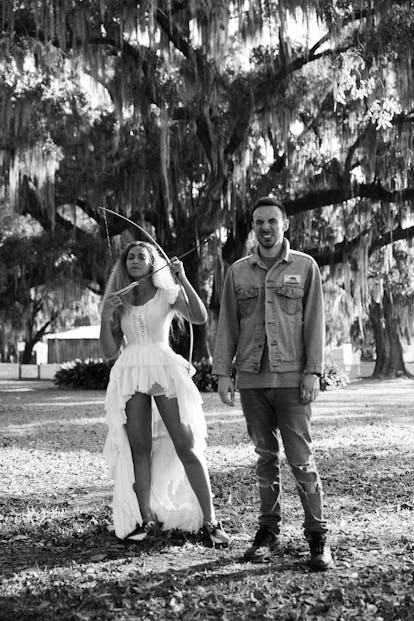 Robin Harper
When Blondie burst onto the music scene in the mid-1970s, its über-cool lead singer, Debbie Harry, wore whatever she cobbled together from her wardrobe. She did her own hair and makeup, and only upped her fashion game after a friend, the emerging designer Stephen Sprouse, began bringing over slip dresses and Courrèges boots for her to play with. Harry cared a lot about her visual presentation, but in the pre-Internet era, mistakes weren't much of an issue. And once she arrived at her look—a bleached-blonde femme fatale—she rarely strayed from it.
Fast-forward to now, when there isn't a digital platform that doesn't get refreshed every minute. Pop stars define themselves via Instagram, Twitter, and Snapchat—not to mention their own record or fashion labels. There is no longer a demarcation between backstage, offstage, and center stage, and this new reality has given rise to a new cultural force: the creative director. Keeping a 360-degree view on every facet of an artist's career—from styling to ­merchandising to packaging—the creative director is at once a consigliere, muse, connector, and soothsayer, charged with galvanizing an ever-evolving juggernaut brand led by a hands-on boss.
The best known, perhaps, is Virgil Abloh, the Chicago-based DJ, designer, architect, and genre-defying polymath, who for 13 years has worked alongside Kanye West. Others leading the pack include Ciarra Pardo (Rihanna), Oliver El-Khatib (Drake), and Todd Tourso (Beyoncé). "Once artists reach a certain level of fame, they simply can't interact with all of these different people to make their brands cohesive," says Tourso, who directed ­Beyoncé's "Heaven" and "Jealous" videos and oversaw the entire process of this year's Lemonade. "You need one person with a visual vocabulary to be the sole liaison. You have to take the artist's ephemeral ideas and try to make them reality and also make them visually forward-thinking."
Abloh, 35, credits West with pioneering the role of creative director within pop culture by extending his reach into fashion, design, and art. "Kanye's a warrior," he says. "It's rare for an artist to hire another artist to make creative decisions that are wider and more expansive." Abloh not only mines niche trends and identifies collaborators for West but also art-directs Yeezy's endless stream of projects, including tours, videos, album covers, ­limited-edition T-shirts, and the Yeezy fashion label. "His life is a living, breathing art project," Abloh says. "My job is to know how he thinks and to put forward the right tools and options that inform the whole scenario."
Prior to joining West in 2003, Abloh, a trained engineer and architect, worked at a firm in his native Chicago. He counts the Renaissance painter Caravaggio and the architects Mies van der Rohe and Rem Koolhaas as major ­influences, and has modeled his career on the Bauhaus principle of a collective of like-minded creatives. "He has an acute aesthetic sensibility," says the artist George Condo, who painted the five album covers for West's 2010 My Beautiful Dark Twisted Fantasy.
By Abloh's count, he and West travel 320 days out of the year. In addition, he's a DJ; runs RSVP Gallery, a clothing store in Chicago, where he lives with his wife and young daughter; and collaborates on his own projects with friends like the musician Theophilus London, "the A$AP kids," and Heron Preston, whom he calls "the streetwear Alaïa." In 2013, Abloh launched a fashion label, Off-White, which brought him serious cred following his nomination for the prestigious LVMH Prize for Young Fashion Designers, in 2015. (He was the only American to get a nod.) His roots in the skateboard and streetwear scenes inform his inclusive philosophy—mixing high and low, masculine and feminine—that speaks to millennial and style mavericks of the post-Tumblr generation. To design graphics for the Yeezus iTunes page, he commissioned the underground artist JIM JOE, who went on to create the much-memed cover for Drake's 2015 If You're Reading This It's Too Late album. And he introduced West to Cali ­Thornhill DeWitt, an artist and former Off-White collaborator, whom West invited to design the merchandise for his current Saint Pablo Tour.
With so much content to constantly deliver, artists have become increasingly involved in the management of their brand. Rihanna is a face of Dior Sunglasses and has a label with Puma; Beyoncé cofounded Ivy Park, a line of activewear. "For years, when I'd bring her inspiration boards for shoots, her comment was 'Why are there only skinny white girls?' " Tourso says of Beyoncé. "We don't want her daughter's generation to grow up feeling that way." Rihanna codirected her own music videos "Bitch Better Have My Money" and "Pour It Up" and is invested in the creation of every concept, says Ciarra Pardo, who began working with her in 2007. "That's a big change," says the Bronx-born creative director, who paid her own way through private school and worked at Morgan Stanley before relocating to California and eventually founding her own production company. "They're not just singers anymore; they're influencers who are truly shifting culture."
Beyoncé, for one, is in constant dialogue with Tourso, her creative director since 2013, sending him YouTube videos and mood boards she makes on her computer. "She's hyper-, hyper-involved—­nonstop working," he says. Beyoncé calls Tourso "one of the most fearless human beings I've worked with. He understands seemingly unachievable ideas and always finds a way to advance them." Lemonade, widely considered her boldest work to date, focuses on marital strife and reconciliation. The project took root in Beyoncé's idea to expand on the emotional arc of the Kübler-Ross stages of grief, says Tourso, a former art director for Warner Bros. Records, Flaunt magazine, and for Lady Gaga early in her career. "Bey thought about placing it in the context of a generational relationship, and then in conversations, we got to talking about African-American generational struggles. We wanted to get at the idea that if a woman feels that her man's cheating on her, it's going to be like some rage of biblical proportions." (Anyone who has seen the video of Beyoncé smashing the windshield of a car with a bat—a nod to the artist Pipilotti Rist's 1997 video Ever Is Over All—will get the message.)
The through line in all of their work together, Tourso says, is showing who Beyoncé is and what she cares about. The release of Lemonade was accompanied by a one-hour film aired on HBO that was as much of a media sensation as the album itself. A powerful document about the historical struggle of black women, it drew on such varied sources as Louisiana voodoo, Southern Gothic allegory, and German Expressionism, and included images of the mothers of unarmed American black men who had been shot by police.
West, for his part, disrupted the status quo, as is his habit, by presenting his Yeezy Season 3 fashion show, his new album, and his Life of Pablo merchandise—all at the same time—at Madison Square Garden this past February, in a live listening party–cum–performance choreographed by the artist Vanessa Beecroft that was streamed live in select theaters. Abloh stood next to West in the pit as they surveyed the proceedings, with every major fashion editor in attendance. As Tourso sees it, West works on a conceptual plane and aims to give his audience "a heightened value of art and fashion," while Beyoncé's goal is to leave her audience "with a heightened sense of themselves."
Tourso, 37, grew up in Los Angeles and studied design and film at the ArtCenter College of Design, in Pasadena. In 2006 he started a streetwear brand called Plain Gravy that created serious heat online after a shirt he made that read PHARRELL CAN'T SAKTE sold out at Colette in Paris and provoked the ire of Pharrell's fans and skate crew. Ironically, it was Pharrell, by then a friend, who brokered Tourso's meeting with Beyoncé in 2013. Abloh, the son of immigrant parents from Ghana, grew up in the suburbs of Chicago and DJ'd at house parties throughout high school and college. At the University of Wisconsin–Madison, he and his roommate hosted weekly dinner parties and adopted as their mantra "What would Diddy do?" after they saw him wearing a Versace robe in the pages of GQ. While pursuing a master's in architecture at the Illinois Institute of Technology, Abloh designed websites and furniture and blogged about culture, before catching West's eye by strategically leaving some T-shirts he'd made for Yeezy at the screen-printing shop frequented by West's team.
For the new breed of creative director, the key to success is a multi-platform, 24/7, omnipresent global life. "I look at Instagram, I post, I travel, I watch people on the street," Abloh says. "I'm on a group chat every day. Friends, designers…we're influencing one another. One of us is DJ'ing every night of the week. One of us is in Paris or L.A. and at every art and fashion show that matters. We have a collective thumbs-up, thumbs-down. So if one of us uses the wrong font or something, I'll be like, 'Yo! It's played out!' ''