The Secret to French Girl Hair, According to Paris' Top Hairstylist
The famed Aussie stylist discusses his most unassuming hair trick, his secret to "effortless" French girl hair, and why you should only wash your hair – gasp – once a week.
---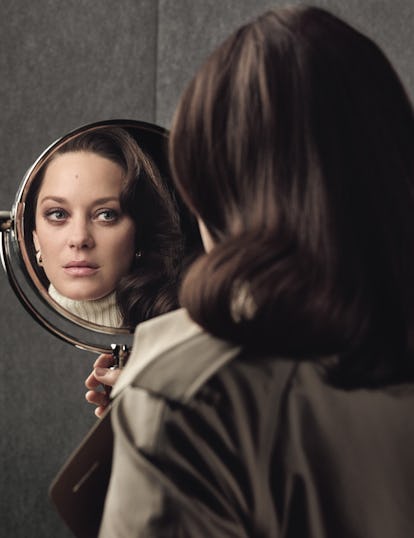 Photographs by Craig McDean. Styled by Edward Enninful. Hair by Orlando Pita for Orlando Pita Play; makeup by Peter Philips for Dior. Manicures by Michelle Saunders for Essie at Forward Artists. Set design by Piers Hanmer.
When your clients include Carla Bruni, Marion Cotillard, and Charlotte Gainsbourg, it's easy to rest on your laurels. But not for Australia-born David Mallett, who just opened his second salon at the newly opened Ritz Hotel in Paris. Growing up in a suburb of Australia, Mallett got into hair when he was 15 and by the time he was 21, he had already been named Australia's hairdresser of the year. After moving to Paris in his late twenties, he booked an editorial gig with the current Paris Vogue editor-in-chief Emanuelle Alt, followed by a gig with photographer Nathaniel Goldberg and Diane Kruger ("Paris has been very kind to me…"). And while there are now too many gigs to count in his rather exceptional 37-year-long career, he counts Christy Turlington's Chanel ad shot by Karl Lagerfeld, as well as campaigns featuring Penelope Cruz and Natalie Portman for L'Oréal and Dior as career milestones. While his salon remains the most sought after in Paris (his original one occupies the second floor of a 19th century maison), his focus is on his product line, which includes a new volumizing item called Gold Dust. The idea for his own collection came to him 7 years ago when he was working on the Perelli calendar with Peter Beard in Botswana. "We made one of our first serums out of macadamia oil to use on dry hair and we never looked back," he explained. Here, Mallett discusses his most unassuming hair trick, his secret to "effortless" French girl hair, and why you should only wash your hair—gasp—once a week. One thing he's learned about Parisians? "French women don't want to smell like lollipops or dishwashing liquid. They want to smell like their parfum," he said.
Tell me about 'Gold Dust' and how exactly does a volumizing powder work? It's a non-aerosol spray. But it's not like a dry shampoo; it allows the hair to remain supple. French girls in particular always want that slightly lived-in look, and when the hair is over shiny, French girls despise that because they like to pretend they don't care. We had to do something easy they could simply dust over. It has a slight gold opalescence so it gives that, then you have the extra effect of having hair that has more body and guts to it.
Where did you get idea for the line? I listened to my clients to hear what they felt was missing. The main thing is they didn't want anything heavy that weighed their hair down. We wanted to take most of the perfumes out, the allergies, and make something healthy, simple and easy to use, rather than something with 15 million ingredients. We have hydration and volume products, it's easy to understand, and no-fuss packaging. They want to smell like their perfume, not their hairdresser. French women don't want to smell like lollipops or dishwashing liquid; they want to smell like their parfum. So, we took everything out. I use a lot of bergamot though—it's one smell French women will accept. Even though our products are neither feminine nor masculine.
Speaking of French women—what is the key to success for getting that effortless French girl hair? It's not about what you're doing, it's about what you're not doing. A French girl ties her hair up in a bun, uses dry shampoo and volume powder. Most French girls I know wash their hair every five to seven days. That dry look is not a look—it actually happens. They wash their hair so infrequently that the color lasts, and the scalp stays moist because they barely blow dry it. Women hate having straight, flat-ironed hair stuck to their head; it has to have jump in it, dirty and sexy the day after, that's why I'm in love with French hair and the international crowd that comes to see me.
What's your most unassuming hair trick? For people with coarse hair, my trick is using Elizabeth Arden 8-hour skin protectant cream. I put it on the tip of my finger and it heals a dry scalps. It doesn't affect the blow dry.
You've worked with everyone from Marion Cotillard to Charlotte Gainsbourg. Who else is left? Cate Blanchett. Amy Adams as well. I'm crazy about red hair. There is a lot of people. But between owning an apartment, dogs, and a son, it's hard to get around to it all.
What's your secret to all of your success? My secret is to care for, look after, and respect what my clients are looking for. I'm about natural beauty, not artificial beauty.
Golden Globes 2017: Emma Stone, Ruth Negga and More of the Best Hair and Makeup Looks
Actress Emma Stone put the easy in updo.

Photo by Getty.
Actress Ruth Negga gave mauve-pink a moment with her coordinated lips and cheeks.

Photo by Getty.
Actress Brie Larson's crimson pout was almost as enviable as her s-waves.

Photo by Getty.
Actress Jessica Chastain sported the look of the night with a romantic smokey eye and soft pink lip.

Photo by Getty.
Actress Amy Adams's shiny, straight locks would win Guido Palau's approval.

Photo by Getty.
Actress Millie Bobby Brown took the Prada bob to the carpet. We love it!

Photo by Getty.
Actress Natalie Portman channeled Jackie O like a pro. We love he half-up 'do.

Photo by Getty.
Actress Jessica Biel stole the show with the perfect hair and makeup combo.

Photo by Getty.
Actress Lola Kirke barely-there lipstick is one trend to keep.

Photo by Getty.
Actress Michelle Williams's ice blond tresses kept the pinky-nude lip cool.

Photo by Getty.
Amy Adams Has "I Will Survive" Memorized
Amy Adams Has "I Will Survive" Memorized