The Sopranos Is Getting a Prequel, The Many Saints of Newark, from David Chase
But it will likely leave viewers with more questions than answers.
---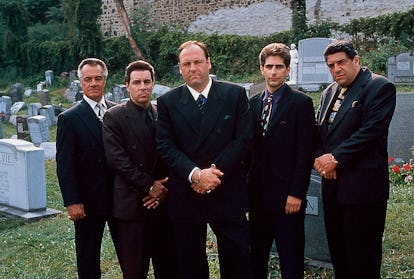 Anthony Neste/The LIFE Images Collection/Getty Images
There's nothing Hollywood loves more than a reboot, and the latest beloved property to receive one is The Sopranos. Despite the flood of emotions this news brings, it's worth noting that the next installment in the Sopranos universe will likely leave viewers with more questions than answers. Creator David Chase is at work on a prequel film that will be set decades before the show's finale sent fans into a state of confusion and disbelief when it aired in 2007.
Dubbed The Many Saints of Newark, the Sopranos prequel will be centered around Tony's father, Giovanni "Johnny Boy;" his wife, Livia; and Tony's uncle Junior, as Deadline reports. It will be rooted in the 1960s clashes between Newark's Italian-Americans and African-Americans and, presumably, will show how the Soprano family came to achieve the American Dream—although plot specifics have yet to be revealed.
Sadly, the film doesn't seem as though it will answer the question still on every fan's mind: What exactly happened to Tony Soprano at the end of the series? But, like the HBO show, it promises to offer a reflection on our own political times through its narrative. Expect to put in more work to decipher the film, though, as ambiguity comes naturally to Chase.
"Ambiguity was very important to me," he told Vanity Fair in 2012 for an oral history of the show. "And the kind of movies that I was attracted to after a certain age were complicated, ambiguous movies—8 1/2, Fanny and Alexander, Raging Bull. No certainties. And network television at that time was nothing but a world of certainties. The Sopranos was ambiguous to the point where, to this day, I'm not really sure whether it was a drama or a comedy. It can be both, but people like to reduce it to one or the other. I know there are the two masks, Comedy and Drama, hanging together. But that's not the way American audiences seem to break things down."
As Toby Emmerich, the chairman of Warner Bros. Pictures Group (which has secured the film). told Deadline, "David is a masterful storyteller and we, along with our colleagues at HBO, are thrilled that he has decided to revisit, and enlarge, the Soprano universe in a feature film."