Read and Resist: W's Daily Briefing for June 25th
What to read to stay informed today, from writers on the books that helped them understand racism in America to the increasingly fraught "talk" that Black parents have with their children.
---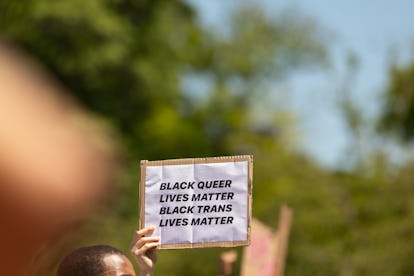 Photograph by Serichai Traipoom for W magazine.
Back in the day, W started off the morning with a quick round-up of links to that day's fashion- and culture-related news. Times have changed; in the weeks since a now former white police officer named Derek Chauvin killed an unarmed Black man named George Floyd, protests have erupted across the country. Now, more than ever, it's important to stay up to date, which is why we're reviving "Chic in Review" as the slightly more radical "Read & Resist." Here are the stories, videos, and tweets we're hoping you don't miss this Thursday:
For this thoughtful roundup, New York Times Book Review editor Lauren Christensen asked novelists, historians, poets, comedians and activists to share the texts that have most deeply affected their understanding of race and racism in America. It includes Chimamanda Ngozi Adichie on Richard Gergel's Unexampled Courage, Desus Nice on Richard Wright's Black Boy and many more.
With the increase in violent videos of police brutality in recent months, "the talk" that Black parents have with their children about racism has become more fraught. "For white families, the talk may just mean a conversation about sex," Turner writes. "For Black families, this rite of passage is about survival and often can't wait." Here, she speaks with parents, community organizers and clinical psychologists about how this milestone has tragically evolved.
A shocking recording of openly racist conversations between Wilmington, South Carolina police officers led to their dismissal, but laid bare just how deep-rooted the issue of racism in police departments really is and how far we have to go to overcome systemic problems.
As homeless people displaced by unrest in Minneapolis have been displaced to a park in the bohemian Powderhorn Park neighborhood, residents have struggled to figure out how to handle a recent influx in traffic, drug overdoses and noise without involving the police. Times reporter Caitlin Dickerson surveys the complicated scene.
As thousands continue to protest police brutality in streets around the country, the legislative fight has been stalled in the Senate. Here, Sarah D. Wire explains the situation and where we'll likely go from here.
In this powerful essay, the writer Emily Bernard grapples with grief, fear and creativity in the face of the pandemic as she observes how her young daughters react to being home from school and seeing videos of police brutality on the internet. "My house is sturdy, for the most part. I dream of more renovations, of making it better, stronger, safer, and more beautiful, for my children, for my team," she writes. "But I can't keep them safe. I can't keep the outside world out. All of my efforts are violated by phones and screens and the truth of black American life itself."
Newsreel
Food for Thought