The Trailer for Netflix's Barack Obama Movie Will Comfort You Before He Leaves the White House
Netflix's Barry is set to debut on December 16th, just as Obama is leaving office.
---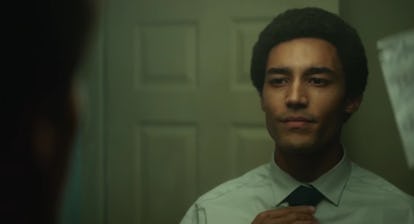 In exactly three months the next President of the United States will be sworn into office, which means Barack Obama will no longer be our president (regardless of whether the loser officially concedes defeat or not). And as the Obama era of American history is officially coming to an end, Hollywood has been scrambling to give him a proper send-off.
Hot on the heels of Southside With You, a Sundance hit chronicling Barack and Michelle's first date which premiered in August comes Netflix's Barry. The flick goes back even further in time than Southside, and centers on the period when Obama moved to New York City to attend Columbia University.
Australian newcomer Devon Terrell tackles the role of Obama in his first onscreen appearance ever, but a list of well-known actresses fill out the cast. Ashley Judd plays Obama's mother Ann Dunham. Anya Taylor-Joy plays Charlotte, an upper-class white girl and Obama's love interest. Jenna Elfman has come along, too, as Charlotte's mother.
In perhaps the most unnecessary spoiler alert ever, the romance between Barack and Charlotte doesn't quite work out in the long run, and the film mostly serves as a coming-of-age tale in which Obama comes to terms with issues like race, class, and identity.
Netflix released a 30-second teaser trailer for the flick today:
The film was written by Adam Mansbach, a novelist who incidentally might be best known for his cult "children's" book Go the Fuck to Sleep, and directed by Vice correspondent Vikram Gandhi.
Barry debuted at the Toronto International Film Festival to relatively positive reviews and was quickly snatched up by Netflix.
"Nonetheless, Barry emerges as an involving and credible portrait of a smart young man with a good deal of growing and learning yet to do," wrote Todd McCarthy in a review for The Hollywood Reporter. "So different was Obama's background to anyone else who has ever become president of the United States that, at moments during the film, it's impossible not to marvel at how it actually came to pass."
The film's December 16th release date on Netflix means it will come right in the middle of the transition period between Barack Obama and his successor. Which means most people who watch the film (the vast majority of whom we suspect will generally have a favorable opinion of the prez in the first place) might either shed a few tears as the torch passes. Or, depending on the election's outcome, they'll ask, "Is it too late to make an exception for a third term this one time?"