Floria Sigismondi Brings an Artistic, Feminist Perspective to Horror
With The Turning, the director revisits a 19th-century story of madness and toxic masculinity.
---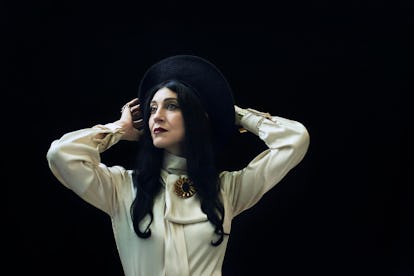 Looking back at Floria Sigismondi's music video for Marilyn Manson's 1996 track The Beautiful People, her future as a horror film director was practically a given. Whereas other filmmakers might have been dissuaded by Manson's radical, macabre peculiarity, Sigismondi saw him as something of a creative muse. "Here was a person that I could really create a character with," thought Sigismondi, who filmed twitchy clips of Manson wearing a teeth-bearing metal gag device or a human skin-like PVC coat and crashed them together into a visual affront that was grotesque and uncomfortable yet impossible to turn away from.
With her first horror film, The Turning, which hits theaters on January 24, the luridness that pervades much of Sigismondi's work as a painter, photographer and filmmaker has translated into one of the year's most harrowing releases, retelling an enduring haunted tale through a refreshingly feminist lens.
"I've been interested in walking the tightrope between the physical world and the spiritual world for a really long time," says Sigismondi, 55, who cleverly contorts a classic narrative into scream-inducing social commentary. "I've always thought it was a great subject matter and my work has always been a bit on the dark side."
Set in the 90s, The Turning follows a young governess (Mackenzie Davis) who takes a job at a strange estate watching over two recently orphaned children (Finn Wolfhard, Brooklynn Prince). As she's settling in, she begins to encounter the ghosts of former servants and believes they're possessing the children to carry out their evil bidding. Staying true to Henry James' 1898 horror novella, The Turn of the Screw, on which it's based, the film forces the audience to determine whether it really is just a ghost story or a metaphor for the governess' descent into madness.
Like any good thriller, The Turning is amplified by a chilling instrumental score that rouses tension and suspense even during the most innocent of scenes. Not so common is its soundtrack—19 songs that speak to Sigismondi's expertise in marrying visuals and music. Produced by Lawrence Rothman, Sigismondi's partner and a multi-instrumentalist, vocalist, and songwriter, it features original songs by Courtney Love, Mitski, Empress Of, Kim Gordon, and more. "It was recorded in our house and it was like a revolving door of creativity—every day there was someone new," says Sigismondi. "Of course, both of our dreams were to work with Courtney Love, who was the ultimate feminist of the 90s. It was so fun to work with her and a total dream come true."
The child of two Italian opera singers, Sigismondi grew up in a household that idolized Maria Callas and valued art above all else. "If I had told my parents I wanted to be a banker or a lawyer they would have had a heart attack," she laughs. Although she originally enrolled at the Ontario College of Art to study painting and illustration, she became obsessed with photography after taking an introductory course, and ultimately graduated with a major in the subject. "I gravitated toward it because of its immediacy," explains Sigismondi, who would intentionally overexpose or under develop her photos to reach a desired effect. "No matter how crazy my ideas were I always felt like the thing to do was to believe in them and see them through."
Confident in her artistic vision, Sigismondi launched a successful career as a fashion photographer straight out of college, eventually shifting gears into music videos and commercials. "Film has something different to offer than paintings and photographs, which you just walk past," explains Sigismondi. "It demands that someone spends two minutes or five minutes or an hour and a half with you, and it deals with all of the things I love." The production design, wardrobe, and music elements of film all harkened back to the operas she grew up adoring and allowed her to channel her myriad interests into a single project.
Sigismondi went on to work with some of the biggest names in music, collaborating with Sigur Rós, Björk, Rihanna, and Perfume Genius on videos that, while conceptually very different, featured high-drama elements like otherworldly settings, intense lighting, and spastic camera movements that were clear-cut indicators of her signature style.
In 2010, she expanded into feature films by writing and directing The Runaways, a biopic about the 1970s rock band of the same name, and later into television by directing episodes of The Handmaid's Tale and American Gods.
Over the span of 17 years, Sigismondi also directed four music videos for David Bowie—an artist whose influence on her life and art cannot be understated. "David Bowie taught me about just being a person on this earth. He was an example of living the way you want to and creating what you want to," she says. "He would tell me, 'Think about the choices you make. When you believe in yourself and trust in yourself, how does it feel? When you give some of that up, how does that feel? It really made me look at projects like that. I don't go too long without questioning myself."
This constant need to question and provoke is central to Sigismondi's approach to The Turning. While the movie is strongly rooted in The Turn of the Screw, she was intent on twisting certain aspects in order to make it more socially relevant and provocative. "I loved the female-centric point of view and saw it as my in to the story. I thought, okay, what can the ghosts represent," she says. Ultimately, she used them to explore toxic masculinity and how it's often passed down through generational abuse. Inversely, the film also examines how women are forced to navigate that toxicity and "how it can get under your skin and drive you completely mad."
As Sigismondi notes, during the time the original novella was released in 1898, mental health was treated much differently; women showing erratic behavior (or claiming to see ghosts) would've been immediately institutionalized and deemed harmful, crazy, and unfit for society. That narrative did not fly with Sigismondi. "I wanted to modernize the story and empathize with her, not turn her into a monster."
With the recent explosion of social thrillers that fold our real cultural anxieties into haunting fictional narratives (Jordan Peele's Get Out and David Robert Mitchell's It Follows, to name a couple), The Turning feels progressive both as it relates to the film landscape as a whole and to Sigismondi's personal repertoire. "My work is always about keeping things fresh and asking how I can challenge myself," she says. "I think death is when you feel too comfortable somewhere."