The Ultimate Gift For the Person Who Has Everything: Out-of-This-World Experiences
Still searching for the perfect gift to give someone special in your life? Look no further. These are experiences that will never be forgotten.
---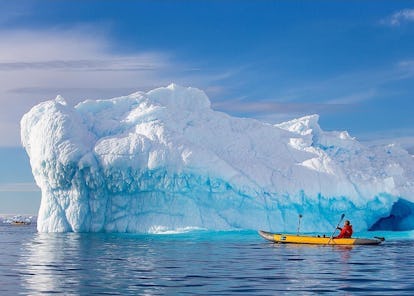 What do you get the person who has everything? Definitely not more stuff. Think big and gift them something they will remember for the rest of their life. Give them an experience of epic proportions, like dinner at the best restaurant in the world or sideline tickets to the Super Bowl. Here, ideas for every kind of person in your life, from the gastronome to the adventure seeker to the leisure enthusiast.
Antarctica expedition
Cruise to the ends of the earth to see one of the world's most majestic sites: Antarctica. Through Lindblad Expeditions' 14-day Journey to Antarctica on an authentic expedition ship, you'll kayak among icebergs, explore the Antarctic undersea, zodiac cruise past resting leopard seals and penguins, and more. You'll be joined by a team of experts, including a National Geographic photographer, eight naturalists/historians, a Lindblad-National Geographic certified photo instructor, and wellness specialist to guide you through the once-in-a-lifetime experience (with prices ranging from $13,360 to $28,340). Expeditions.com
Tickets to see "Hamilton"
Tickets to see Broadway's most in-demand show? Yes, please. Charitybuzz has four orchestra seat tickets to see "Hamilton," winner of 11 Tony awards, currently available. The most recent bid $3,100 (with funds going to support Pathways for America), and there are 12 days left. Better start bidding! Charitybuzz.com
Dinner for two at Noma's Tulum pop-up
Acclaimed chef Rene Redzepi and his Noma team (including former Noma sous-chef Rosio Sanchez) are decamping from Denmark to Tulum, Mexico for his newest pop-up this spring. The seven-week outdoor, open-air restaurant, running from April 12 to May 28, 2017, will be Redzepi's take on Mexican ingredients and culinary traditions. In typical Noma fashion, the $600-per-person seats are already completely sold out, but sign up for the waitlist now and maybe you will get very lucky. Noma.dk/mexico/
Sideline seats at the Super Bowl
For the sports lover in your life, here's a gift that will be hard to top for years to come: StubHub's "Biggest Super Bowl LI Package" for the big game in Houston, Texas. Think: club sideline seats (15-20 yard line), access to the three-hour game VIP party inside NRG stadium (featuring A-list music talents and an award-winning chef), a ticket to Club Nomadic Friday Nigh party (past performers include Jay Z with Beyonce and Pharrell), post-game VIP party with on field access, appearances by NFL alumni, and more. $11,300 for the package. Stubhub.com
Dinner for two at the 2016 best restaurant in the world
If you are looking for a way to impress the foodie in your life (and Noma's Tulum pop-up is seeming unattainable), book a reservation at the 2016 best restaurant in the world, Osteria Francescana. Massimo Bottura's acclaimed restaurant in Modena was named #1 this year by the World's 50 Best Restaurants and now it's harder than ever to get into the 12-seat, 21-year-old spot unless you plan in advance, so make sure you plan ahead for your culinary adventure to Italy. Bookings can be made via the website.
Stay in a French castle
Ever wanted to live like an actual king or queen? Make dreams come true by booking this 17th century French castle overlooking the Dordogne river in the countryside. The nine-bedroom Chateau de Ruffiac has it all, from a private pool to surrounding hiking paths to a private chef and maid service. Spend your days hot-air ballooning over the surrounding small towns, sampling the local truffles and wines, or boat cruising along the river. Sleeps 16; prices start at $4,436 per week.
Rent a super yacht
Spend a few days living like a billionaire aboard your very own super yacht. Inspire major boat envy with Titania, a 240-foot super yacht, equipped with a 20-person crew, seven cabins (fits 12 guests), a gym (fitness instructor, included), a spa room (massage therapist, included), a pool and sauna, and a host of water sports toys. In fact, it's hard to find anything this luxury boat doesn't have. It's perfect for Mediterranean cruising in the summer and South East Asia/Indian Ocean in the winter. Rates: $600,000 per week in high season/$420,000 per week in low season. Burgessyachts.com.
The Best of Holiday Shopping Street Style From Around the World
Katie Hillier from Brooklyn

Photo by Angela Datre.
Photo by Maria Fernanda Molins.
Photo by Evgen Kovalenko.
Zlata Semenko from Kazakhstan

Photo by Angela Datre.
Natalie Brockinton from Arkansas

Photo by Angela Datre.
Matilda Haffner from Atlanta

Photo by Angela Datre.
Monica Badosa from New York

Photo by Angela Datre.
Kendall Jenner and Gigi Hadid Dramatically Reading "Baby" By Justin Bieber Will Blow You Away