The Undoing Trailer: Nicole Kidman Dominates Her Next HBO Series
In HBO's The Undoing, Nicole Kidman plays a confident marriage therapist whose life is about to fall apart.
---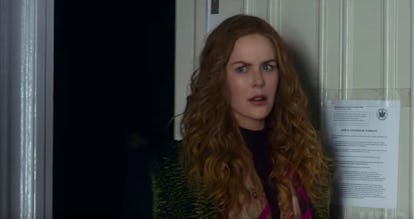 via HBO
It would be insulting to oversimplify the prolific acting career of Nicole Kidman, but experts in Kidman-ology have noticed that there are two distinct archetypes frequently popping up throughout the Gemini actress's filmography.
There is the quietly suffering woman whose life has been upended by circumstances beyond her control. She attempts to hold it together publicly, but underneath there is a mix of despair, sadness, and often flat-out rage brewing underneath. Celeste Wright from Big Little Lies certainly fell into this camp. As have Kidman's characters from Dogville, Rabbit Hole, and, honestly, even Bewitched amongst other projects.
But from the short trailer for Kidman's next HBO miniseries The Undoing (which reunites her with BLL scribe David E. Kelley), it's clear we're getting the other Kidman character archetype. This one is a woman who is rendered icy by her supreme confidence (if not straight-up narcissism) and, from her view at least, superiority, but is ultimately undone by her own flaws and stubbornness. Think To Die For, Margot at the Wedding, or The Stepford Wives.
Based on Jean Hanff Korelitz's novel "You Should Have Known," Kidman plays Grace Sachs, a woman who has patterned her seemingly perfect life on that of her parents'. She's got a respected doctor for a husband (played by Hugh Grant), an enviable Upper East Side home, and a darling son who, of course, only goes to the finest of Manhattan private schools.
In fact, Grace's life is going so well that she's about to publish a major book castigating women in failing relationships for bothering to settle for a dud of a man in the first place (hey, we've all at least thought that from time to time). As the rule of Kidman character dynamics would suggest, overconfident Grace is about to be humbled.
The teaser trailer jumps right to finding Grace in the midst of said humbling. We won't spoil it, but it's clear there's some sort of major police investigation, a healthy amount of media interest, and some major bad blood with her father.
There are of course other hallmarks of Kidman-ism too. Steely gazes, a statement wig, and a sternly whispered mic drop of a line. In this case, "Exactly how weak do you think I am?"
While Grant, Donald Sutherland, Lily Rabe, Édgar Ramírez, and Noma Dumezweni costar, it's clear from the teaser trailer alone that this is certainly Kidman's show.
And in keeping with Kidman's recent public commitment to working with female directors, Danish filmmaker Susanne Bier (previously of The Night Manager and Bird Box) will helm all six episodes.
No exact premiere date has been announced, but the trailer promises that the series should be here sometime in May.