The VMAs Have Become The Wrestlemania of Pop Music
Yo Kanye, Imma let you finish, but Courtney Love had one of the best VMA interruptions of all time!
---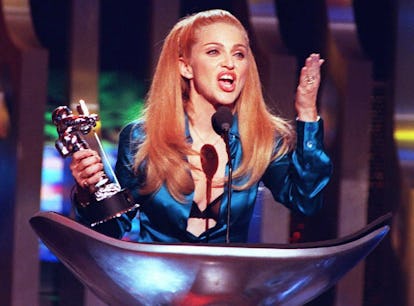 DON EMMERT/AFP/GettyImages
The VMAs are ostensibly held to honor the best music videos of the year, but it seems the only people who actually take the awards portion of the show particularly seriously are, well, Kanye West and Taylor Swift. Because, at this point, most of us watch the VMAs not to see who actually picks up the awards, but rather for all the stunt shows and shenanigans, the feuds and fights and the spectacular (or spectacularly embarrassing) performances.
Over time, it's become not so much an awards show as it has pop music's answer to Wrestlemania. A spectacle full of drama, disagreements, and misdeeds. And sometimes we can't help but shake the feeling that some of it might have been scripted beforehand.
To drive home the point, here are some of the most notable on-air VMA fueds of all time.
1993: RuPaul vs Milton Berle
MTV has a history of booking seemingly odd pairings to present awards together at its shows, and maybe none seemed as odd as then 85-year-old legendary comedian Milton Berle and a new-to-the-scene RuPaul. The joke was that Berle used to dress up in women's clothing for comedy sketches.
The pair not only had no chemistry but also no respect for each other. After some sparring, Ru quipped, "So you used to wear gowns, but now you're wearing diapers," which caught Berle off guard and earned Ru some media criticism at the time. Later, Ru would claim that Berle kept trying to feel him up backstage.
Winner: Rupaul.
She might have gotten some criticism at the time for breaking her "drag queen of nice" image, but as she would find out almost two decades later, there's a certain segment of the population that can't get enough of watching drag queens be mean on television.
1995: Madonna vs Courtney Love
Yo Kayne, I'ma let you finish, but Courtney Love had one of the best VMA interruptions of all time …of ALL TIME!
But before we get to the specifics of that infamous flying compact, we need to put it in the wider context of the 1995 VMAs. For the first time, Michael Jackson actually performed live in the venue, and gave the first 15 minute greatest hits medley in the show's history. TLC took home the Best Video award for "Waterfalls," becoming the show's first R&B/Hip-Hop (and arguably non-rock), first African-American, and only the second female act to do so. It was a turning point year for the show. The after-show would also give the VMA's its first big, meaty taste of on-air confrontation.
Madonna, at the time trying to tone down her image after the relative flop of Erotica and very much campaigning for her eventual role in Evita, was in the midst of giving a rather boring interview to Kurt Loder about her ballads album when all the sudden a compact flew right over her impressive hair extensions. A camera panned down to reveal that Courtney Love was the culprit.
The resulting confrontation featured Madonna throwing something of her own that seemed to go right over Courtney's head: shade.
Winner: Madonna
The queen of pop was trying to appear relatively mature and put together at the time. That's not something that's hard to two when juxtaposed against a seemingly inebriated Courtney Love.
1997: Fiona Apple vs This Bullshit World
A 19-year-old and very angst-ridden Apple took home the award for Best New Artist in 1997, and decided to try to deflate MTV's notion of manufactured cool.
"Everyone that's watching in this word, this world is bullshit," said Apple. "And you shouldn't model life about what you think that we think is cool and what we're wearing and what we're saying and everything. Go with yourself."
Winner: This Bullshit World.
Sorry, it always wins in the end.
1998: Mariah Carey vs Whitney Houston
Let's circle back to the professional wrestling analogy. Sometimes the biggest drama of all is when two superstars are built up as enemies only to reveal at a pivotal moment that they were actually in cahoots all along. That's what MTV tried to pull off with this pairing of Carey and Houston (who had been pitted against each other in tabloids). The Diva showed up in the same dress, only to laugh it off and set the stage for their eventual duet.
Winners: Mariah and Whitney's PR teams.
2002: Triumph the Insult Comic Dog (and Moby) vs Eminem
Back in 2002, Eminem was in some sort of feud with Moby (because 2002 Eminem was in some sort of feud with everyone), and allegedly flicked off the electronic producer off-camera while he was being interviewed by Triumph the Insult Comic Dog. The Dog (controlled by comedy writer Robert Smigel) decided to confront Eminem, which lead to Eminem trying to push to rubber dog away.
Winner: Triumph the Insult Comic Dog
As a rule, if you get into a fight with an actual puppet, the puppet wins by default.
Taylor Swift vs Kanye West
Umm, is there anyone on earth who actually needs to be brought up to speed on this event? Because if you do, you know what, savor it. We all sort of envy you.
Winner: Kim Kardashian's Snapchat
Miley Cyrus vs Nicki Minaj
After Minaj claimed that the show snubbing her "Anaconda" video in the Video of the Year category may have been a result of racial bias, Cyrus, that year's host, gave an interview in the New York Times' in which she addressed the controversy with a very "kumbaya"/"what can't everyone just get along" attitude. One that Minaj found disrespectful and decided to address at the show.
Winner: The New York Times
Who said newspapers aren't relevant anymore? They out here starting VMA beefs.
Watch W's most popular videos here: