The Way, Way Back
Directors Jim Rash and Nat Faxon take us behind the scenes of their new comedy
---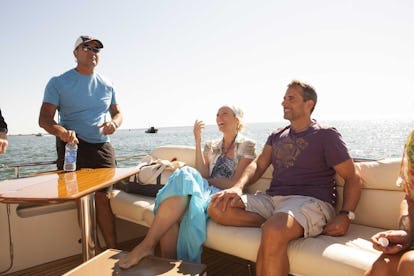 Jim Rash and Nat Faxon finished writing their coming-of-age comedy The Way, Way Back before they began work on The Descendents, the 2011 Alexander Payne–produced film starring George Clooney that won them the Oscar for best adapted screenplay. The statuette "definitely provided some momentum to get this movie made," Faxon says. Steve Carell stars as Trent, the insensitive, unfaithful boyfriend of Pam (Toni Colette), who takes her son to his beach house for the summer where she drinks and carouses with her friends, played by Amanda Peet and Allison Janney. The story, though, is really about her son Duncan (Liam James), a painfully shy teenager who has yet to find his tribe. "The beginning of the film is ripped from the headlines of my youth," explains Rash, whose stepfather pulled him aside one summer, just as Carell's character does Duncan, and told him that on a scale of 1 to 10, he'd rate him a 3. Though the words wound, they achieve the desired result: Duncan discovers romance and a clan of adult friends—Sam Rockwell, Maya Rudolph—all of which proves life changing. It's the kind of transformational summer vacation that adolescents—and often, their parents—bank on. "Actually, I'm still hoping it happens for me," Faxon says.
The Way, Way Back
©WWBSP LLC. All Rights Reserved.
The Way, Way Back
©WWBSP LLC. All Rights Reserved.