Surviving Teen Angst With the Cast of The Wilds
Amazon Prime's first young adult series takes a group of girls crash landed on an island and dares them to survive the ultimate obstacle: being a teenager.
---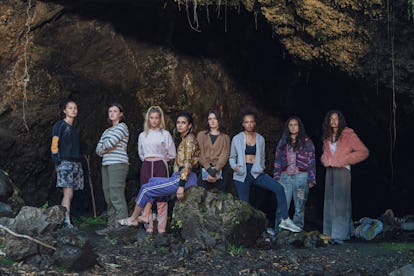 Image courtesy of Amazon Prime Video.
There are many reasons one might want to travel to New Zealand: to take in the beauty otherwise known as the land of the Shire, to try to catch a glimpse of Lorde entering the recording studio, to witness how a nation operates when run by a competent leader like Jacinda Ardern. But in January, the reason I decided at the last minute to hop on board a day-long flight to Auckland was to check out the set of Amazon Prime's first young adult series: The Wilds.
The show, which could be summed up as part Lord of the Flies, part Lost, and part Pretty Little Liars—follows a group of teen girls on a private jet headed for a retreat in Hawaii. A turn of events causes them to crash land on an island and discover something is amiss about their disappearance. It is revealed over the course of the first episode that the women's empowerment retreat called The Dawn of Eve that they were headed to in Hawaii is—gasp!—a sham. (In retrospect, the idea behind this retreat is definitely giving NXIVM and JNESS vibes.) There is no retreat—it's all a front for a scientist's experiments on what would happen if a group of teen girls, all of whom are neatly nestled into archetypical boxes (the athlete, the beauty queen, the weirdo motormouth), were to crash on an island with no help. How would they handle isolation? Could they overcome their differences in race, sexual orientation, class? And what would the recovery process be like, after they hopefully are rescued?
It turns out, crash landing on an island has nothing on being a teen, according to Sarah Streicher, the series creator. The writer and producer has a very personal relationship with the idea behind the show—she was fueled by the devastation of a breakup, which sent her back to wallowing like she once did as a teenager. Eventually, she decided to turn those feelings into a television series about the teenage experience, to honor those feelings, rather than dismiss them.
This cast of young women—played by Sophia Ali, Shannon Berry, Reign Edwards, Helena Howard, Erana James, Mia Healey, Sarah Pidgeon, and Jenna Clause—come from a variety of backgrounds, acting disciplines, and countries ranging from Canada to the United States to Australia and, coincidentally, New Zealand. Back in January, our conversations in between takes of scenes on set they were mostly jovial, even though one invisible menace loomed: the impending threat of the coronavirus.
To be honest, most people were generally unfazed. No matter the fact that when I finally landed in Auckland, after a 13-hour leg of the journey from Los Angeles, there was chatter overhead of possibly quarantining the plane due to a sick passenger on board (turns out they were just nauseous). The coronavirus was casually mentioned here and there during the set visit, but because it was in its fledgling state as far as we were concerned, it wasn't going to become much of a bother for us. We, of course, couldn't have been more wrong, but for the country of New Zealand—which effectively eliminated any presence of Covid-19 this summer (and there have been just a handful of reported cases in the last week)—things did not progress to nearly as much devastation as they did back in the United States, which has seen a total number of over 15 million cases of the virus, and over 286,000 deaths.
Generally, we thought everything would be be peachy. Perhaps the shrug-it-off vibe on set was cultivated by the fact that on The Wilds, every actor had already been put through the ringer—emotionally, of course, but sometimes physically as well.
According to Pidgeon, the most challenging part of the series was actually dealing with nature. "We're outside for a really long time every day, which sounds simple, but the scenes can be a challenging place to inhabit for hours a day," she explained. The island that the girls land on often serves as another character on the show, with its extreme weather conditions and harsh elements. "Mother nature just screams at you," she said.
Edwards, who plays disciplined competitive swimmer Rachel, agreed. "[The locations] are super beautiful, but they're also very hard to work in." she said.
To the eyes of someone who has never set foot in Oceania, Auckland is breathtaking. But for the majority of those who have spent their fair share of time in New Zealand—amid its vast mountains and beaches and vineyards—it is somehow widely considered the uglier, less visually appealing part of the country. But you'd have to be a complete fool to not see the beauty in the panorama of even the "ugly" side of New Zealand.
Not all of the series, however, was shot on the beach. Some principal shots were taken on the coast—which can prove to be a struggle in New Zealand, where, according to the show's executive producers, "You can experience all four seasons in a day." At times, the girls had to strip down to their skivvies in brisk weather to get the shot for the outdoor scenes. After that, however, the beach was entirely recreated indoors to match all the details of the real outdoor thing—fake black sand and rocks included.
While all of the young women who play the teen girls in The Wilds agreed the elements could be harsh, they described different reasons for joining the project, ranging from the series creator's feminist ideas to wanting to get the chance to travel. And while most of them admitted they could relate to their characters at their core, some of them found that channeling teen angst for the screen did not necessarily involve mining their own adolescent experiences. For example, Healey, who plays a Texan popular girl with a big secret and is actually from New South Wales, Australia, joked that she has almost nothing in common with her character. "I had a horse. It was like, country life," she said. "It was definitely a very different teenage time than Shelby."
Ali, who plays Fatin, a seemingly image-obsessed wild child, found the show's ability to subvert stereotypes to be the big draw for many of the actors, but for the viewers as well. "It just shows women in such a different light," she said. "My character, for instance, was from a conservative Muslim background, and she's not what you would think a stereotypical Muslim girl would be. To play someone who goes outside of those stereotypes, [someone who is not] usually perceived as normal on TV, is what really drew me to it."
"That they centered on diverse women is definitely a huge draw," echoed James, who plays aggressive, misunderstood but big-hearted firecracker Toni. "I feel like I want to stick up for everybody. I want everything to be fair. Bit of a social justice warrior in that sense, like her," she explained.
"When I was reading the pilot, what was interesting to me was how different each of these girls are, but also the fact that they never would have interacted with each other [if they] hadn't been put in this terrifying situation," said Berry, who plays Dot, a tougher-than-nails tomboy Texan. "We're all super close as a cast, but all the girls on the island obviously go through so much together as a union," Healey echoed. "But we'll need each other in some way or another to survive."
The Wilds has been coined a "dystopic slumber party" by its series creators and producers. The characters are all purposefully stereotyped, and because of the secrets they carry, those stereotypes are eventually subverted. But it is the scientist behind the whole operation, played by Rachel Griffiths, who sews the seams between them together, pulling strings and manipulating them from afar without their knowing. "Many thought leaders' theories are provocative and interesting, but often, in their execution, when there's a surrender to the notion of the greater good over the fallout, they become dangerous," the actress said of her character Gretchen Klein. "I think any ideas can become dangerous when applied with that kind of zealotry."
Related: Hunters and Little Fires Everywhere's Tiffany Boone on Playing Young Kerry Washington