The xx Go Out with a Bang
The band finished its New York run with a star-filled party
---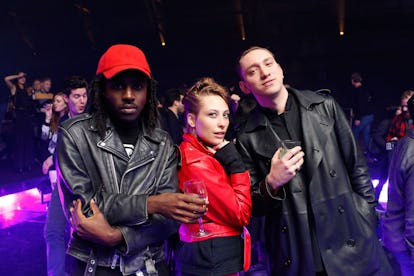 The 55,000-square foot Drill Hall at The Park Avenue Armory is a heck of a place for a dance party. On Saturday, The xx celebrated the end of its much-hyped 11-night residency in the cavernous space, with a party sponsored by Oxley Gin, Red Bull, and Lagunitas, where friends and A-listers were invited to get down after the final show to tunes spun by Dev Hynes, the producer and singer also known as Blood Orange.
"I'm going to be playing a selection of songs spanning the last 100 years," Hynes said, rather grandly. He added, sincerely, that The xx's intimate, final performance was "incredible, phenomenal, and masterful." Hynes even treated the crowd, which included his girlfriend, Samantha Urbani of the Brooklyn band Friends, to ten seconds of his angelic vocalizing during the chorus of 50 Cent and Justin Timberlake's "Ayo Technology."
As for the hosts themselves, The xx were all smiles and high spirits. "It's the best thing we've ever done," said Jamie xx, as friends—like Kim Ann Foxman, who also hopped onto the DJ booth, and electronic duo CREEP—kept the party going. Even Madonna put in an appearance after attending the final performance. Unfortunately, Beyoncé, who likewise showed up for the last show, did not stick around for the afterparty. It was probably past Blue Ivy's bedtime.
Photos: The xx Go Out with a Bang
The environment at The xx Afterparty. Photo courtesy of Hanlon Fiske Studios.
Dev Hynes, Samantha Urban, and Oliver Sim. Photo courtesy of Hanlon Fiske Studios.
Molly Hawkins. Photo courtesy of Hanlon Fiske Studios.