There's a Gallery Full of Kittens in New York's Lower East Side
And they're quickly spreading onto Instagram, thanks to the artist Alix Pearlstein.
---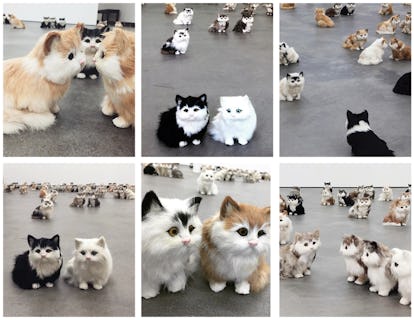 A few weeks ago, the New York artist Alix Pearlstein opened her solo exhibition, at On Stellar Rays in the Lower East Side, during one of the busiest months on New York's art calendar. There, she's showing two of her short films, but it's the other element of Pearlstein's show — dozens of eerily lifelike kitten sculptures — that has proved quite the distraction. Altogether, they make up "Harem Room," an exploration of heavy topics like fetishization and objectification that Pearlstein's presented in a delightfully fuzzy manner. Instagrammers, of course, have been taking note, though now they have to move fast: the litter scurries away when the show closes this Sunday.