There's an Underground Art Museum in the Finally Open, Near Mythic Second Ave Subway
New York's subway extension comes complete with art by the likes of Chuck Close and Vik Muniz, much to Instagrammers' delight.
---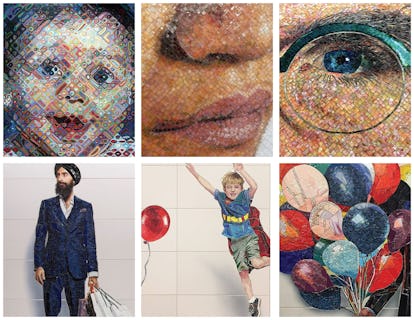 Images via @facestogether, @stevenblevine, @fuelgrannie, @creativetimenyc, and @jhaykin.
It was already a miracle that the Second Avenue subway, the long-mythic extension of New York's train system that's been under construction for nearly a century in New York, was completed in the first place, with three stations opening up on the Upper East Side just in time for this year. But perhaps even more astounding is the fact that the city's latest addition also functions as a permanent public art installation—the largest one in state history, thanks to full-scale contributions from the artists Chuck Close, Vik Muniz, Sarah Sze, and Jean Shin, who were each chosen to turn stations into art installations back in 2009. Of course, now that passengers are free to roam underground, they're also free to Instagram, too. See their best shots of the works, from Close's self-portraits to Muniz's life-size, tiled rendition of Waris Ahluwalia, here.