These Are The Hottest It Bags of The Moment, According to the Resale Market
There's no Billboard Hot 100 for "It Bags," but consignment site The RealReal gives us a rare peek into what is actually selling.
---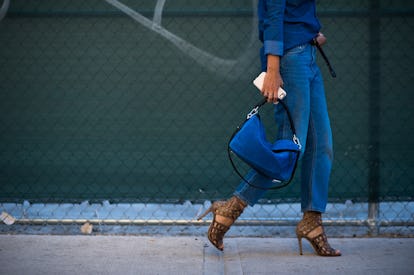 2015 Adam Katz Sinding
There's no easy, objective way to determine what particular pieces are truly hot this season. Sure, you could count up editorial credits or keep tabs on how often you see an item on influencer Instagrams or street style pics, but there's not exactly a Billboard Hot 100 for "It Bags." Brands would rather see their latest campaign star rocking a two-seasons old bag from their fiercest competitor on the red carpet than release cold hard sales data to the public.
Fashion consignment site The RealReal, however has no such qualms. The online authenticator and reseller of second-hand designer goods released its mid-year "State of Luxury" report today. Though, the data only takes into account items sold on the site, it gives the public a rare peak into what's really in demand.
According to no greater fashion arbiter than the very forces of capitalism, smaller-sized shoulder and saddle bags are decidedly the "It Bags" of the moment. Bigger, slouchier satchel and safari bags are on their way out.
Here are the bags that have seen their prices shoot up on the resale site over 2016:
1. The Hèrmes Constance Resale prices are up 60 percent.
2. The Chloé Drew Resale prices are up 18 percent.
3. The Chloé Marcie Resale prices are up 15 percent.
4. The Gucci Soho Disco Resale prices are up 10 percent.
And here are the bags that are seeing their resale prices dip:
1. Fendi 2Jours Resale prices are down 22 percent.
2. Proenza PS 1 Resale prices are down 10 percent.
3. Céline Trapeze Resale prices are down 10 percent.
4. Céline Nano Luggage Resale prices are down 10 percent.
Though, none of these bags — not even the now über-popular Constance — may be the hottest tote on The RealReal. Responding to market demand earlier this year, the site introduced a section devoted entirely to Hèrmes Birkins for men. Every single bag listed on the site has sold. Thanks, Kanye.
Elsewhere, the report also finds evidence to suggest that the never-ending game of designer musical chairs helps to drive up demand for luxury items. Sales of Saint Laurent are up 167 percent on the site so far this year thanks in large part to the departure of Hedi Slimane. That's the highest uptick in demand for any brand. Dior sales are up despite Raf Simon's departure last year, but the good news for the brand is that sales of Valentino, the former house of its new designer Maria Grazia Chiuri were also up 110 percent. Meanwhile, suit label Brioni saw resales on the site more than double in May, the month it announced that street style fixture Justin O'Shea would be taking over as creative director.
Watch W's most popular videos here: