These Witchy Punks Are Behind a New Virgil Abloh-Approved Street Wear Label
1971 is brought to you by Brujas, a radical feminist cohort of activists, skaters, musicians, healers, and hustlers from New York City.
---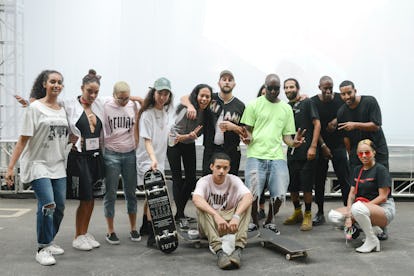 Madison McGaw/BFA.com
"Everyone wants to talk down here," the 24-year-old Rebecca Sturcken said from Miami last week, where she was visiting for Art Basel. Being a native New Yorker, she was taken aback by the overt camaraderie displayed by the city's inhabitants, and also wary of it. But when her friend Arianna Gil, 23, joined her that following weekend for the skate park launch of their street wear label 1971 with Future Archives, they were pleasantly surprised once again by generosity and enthusiasm fashion and art folk showed them, Virgil Abloh included.
Sturcken and Gil are two members of Brujas, a radical feminist collective of activists, skaters, musicians, healers, and hustlers founded in 2014. Together, they throw parties in New York with names like "Anti-Prom" and "F—k Summer Camp" and make merch with a mission. Their new, limited-edition line called 1971 directly addresses the problems of the American justice system, with shirts and shorts that read: "Prisons are obsolete / Give em Hell / Negotiations from the / Door of a cell."
So far, they've raised $23,000 on Kickstarter to make the line a reality and its proceeds go to supporting queer/trans people of color facing prison time in New York, particularly affected members of the Brujas community.
Virgil Abloh and Venus X DJ at a Skate Park In Miami For a Good Cause
Bradley Soileau, Virgal Abloh

Madison McGaw/BFA.com
Aleksandra Vitosevic, Erica Smolin, Samantha Brown, Hannah Sider

Madison McGaw/BFA.com
The name Brujas derived from brujería, the Spanish word for a witchcraft, as well as a 1986 video called "Skate Witches," in which three punk female skaters push boys off their decks and steal them. They don't want to be referred to as a skate crew, however. Rather, a political organization.
"Brujas is rooted in identity politics, but our identities don't stand alone as politics," said Gil, who grew up on the Lower East Side and founded the group with her friend Sheyla Grullon. "It's more like, these are our identities and this is what we're doing giving our understanding of the world because of the oppression we've experienced. We ask ourselves: What is Brujas doing beyond the skatepark? What can we do to take power away from capitalism and patriarchy?"
The answer is grassroots organizing, specifically fundraising through events and street wear. And with members of the Brujas community in-and-out of Rikers Island, the prison system is the most pressing issue at the moment for them. "I've been to Rikers before," said Sturcken. "It's gross and disgusting and people get no respect…you're herded like an animal. We've all heard stories, but it's only when you experience it that you really understand that it's the worst place you could end up, ever. And I'm so concerned for my friends there now."
Another way Brujas has gotten their message out there is through hosting events at otherwise privileged gatherings like Art Basel and fashion week in order to bring more eyeballs (and wallets) to their cause. "We're constantly negotiating contradictions by being in spaces like Basel and fashion week, which are all institutions and cultural events that aren't necessarily things we would got on our own accord," said Gil. "We go to shake things up and bring voices that are different."
Brujas has certainly tapped into something, with merch flying off the shelves this year and designers like Virgil Abloh, Demna Gvasalia, and Maxwell Osborne and Dao-Yi Chow of Public School all trying to do their own versions of luxury street wear. Sturcken and Gil say they can live with this appropriation, but just as long as it's done mindfully. "Street wear is a coup d'état of the fashion industry from below," said Gil. "It's young urban peoples' way of creating something to identify other people who grew up like them and who affiliate certain politics and life experiences. High fashion suddenly becoming interested in street wear is fine, but you will never be able to understand what makes street wear valid if you don't understand the politics it originates from."
Before hanging up, Gil added: "We're waiting for the next fashion company to come to us instead."