'This Is Us' Just Released a New Scene From Season 2, Watch It Here
The show returns on September 26th.
---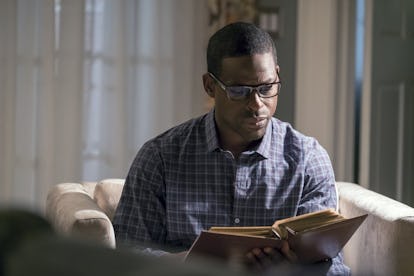 NBC
This Is Us, which stars Mandy Moore, Milo Ventimiglia, Sterling K. Brown, Chrissy Metz, and Justin Hartley, was the breakout smash of the fall 2016 TV season. So it wasn't surprising when news broke a few months ago the show was renewed for a second season—and a third!
NBC has kept the season-two details under wraps thus far; frankly, we don't know anything for sure except that we'll finally learn how Jack (Ventimiglia) passed away.
But what's in store for the Pearson family just became a little clearer. NBC dropped the first clip from This Is Us season two on Facebook Wednesday (August 23), and no surprise, it's a total tear-jerker.
The scene, which NBC teased for journalists during a Television Critics Association panel last month, takes place in the present day between Randall (Brown) and his mother, Rebecca (Moore). If you remember from last season, Randall told his wife, Beth (Susan Kelechi Watson), that he wanted to adopt a third child. It seemed like Beth was happy with the idea, but Randall tells Rebecca in this scene that she's now "struggling."
This whole situation is very familiar because Rebecca adopted Randall 37 years ago after she miscarried one of her triplets. Randall asks Rebecca how she originally felt about adopting him, and her answer's pretty heartbreaking. It turns out she wasn't on board with it at first. Jack had to persuade her.
"Your father was so sure. I was tired and grieving and he just kept pushing me," Rebecca tells Randall in the scene. "He was so determined that you were meant to be… meant to be ours. Sometimes in marriage, someone has to be the one to push the big moves—and yes, it was your father. He pushed a stranger on me and that stranger became my child. And that child became my life. He became you."
Watch the full scene:
*This Is Us season two premieres September 26 on NBC.*
Related: If Milo Ventimiglia Weren't the Star of This Is Us, He Would Also Be Crying to This Is Us