This Is Where Everyone From Gisele to the White House Goes for Couture Carpets
Introducing the exclusive House of Tai Ping, for all your luxury needs underfoot.
---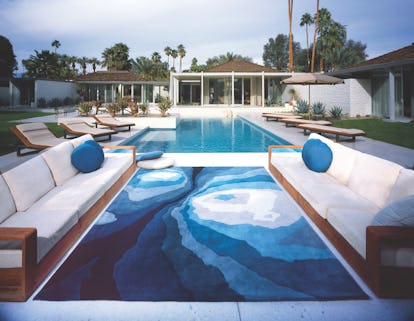 Courtesy of House of Tai Ping
When it comes to interior spaces, it's typically the art or the finishings that get the spotlight. But in places like the White House and the Ritz Paris, there's also art right underneath your feet. The carpets by the House of Tai Ping, a Hong Kong-based brand founded in 1956 by a group of Chinese businessmen, has designed and created the carpeting in some of the world's most distinctive and historic spaces. From private yachts, jets, and homes (the late Brooke Astor and Tom Brady and Gisele Bundchen), to top fashion houses and hotels (The Baccarat, Mandarin Oriental, and L'Hermitage Monaco), Tai Ping has become the go-to carpet designer for an elite crowd. They've also collaborated with the likes of Peter Marino, Kenzo Takada, and Christian Lacroix creative director Sasha Wickoff on special carpeting.
"All of the carpets are haute couture," said House of Tai Ping global creative director, Jean-Pierre Tortil. "Each one is handcrafted and highly detailed — they are very, very time-consuming to design and realize."
Tortil and his team of designers work closely with each client to create a customized piece. Though the prices range quite a bit depending on the level of customization and the materials, a standard piece from the Chroma Collection starts at around $126 per square foot. (For a standard 8′ x 10' rug, that's over $10,000.)
"One of my favorite stories is when Brooke Astor asked us to create a rug that would hide her dog's droppings," said Tortil. That's just one of many different kinds of things they have to think about when designing for a picky client. "For example, we have to think about whether a space will be really high traffic or where it will be placed — like if it's going on a yacht, we need to make sure it can get wet. We have highly specialized teams for that reason."
Here, Tortil gives us an inside look at Tai Ping's custom jobs for yachts, hotels, and homes around the world. The takeaway? Don't forget to look down.
Inside the House of Tai Ping
" This custom-made Tai Ping rug, designed by Stéphanie Coutas, really brings consistency, harmony and glamour to this beautiful Paris apartment. The white, the black and the different shades of grey bring to the room a sensible touch of elegance and personality."

Courtesy of House of Tai Ping
"I'm very happy to see how the amazing timelessness of the neoclassical Fin De Regne rug, designed by Gilles & Boissier for Tai Ping, brings to the room a creative touch of elegance and comfort in its red and brown colors, as well as a sense of contemporaneousness."

Courtesy of House of Tai Ping
"Patricia Urquiola's vision and creativity has been a wonderful challenge for Tai Ping. The intricacy of the designs, the very subtle cutting-edge color palette as well as the different textures selected made the rugs an important player in this unique, breath-taking hotel."

Courtesy of House of Tai Ping
Courtesy of House of Tai Ping
"A beautiful Edward Fields design, this Terra custom-made rug reflects mid-century modern style. I really enjoy the very nice story behind this: the rug was designed for Brooke Astor to disguise indoor dog droppings."

Courtesy of House of Tai Ping
"The wonderful and sophisticated André Fu Aerial custom rug is the perfect touch of elegance and modernity to furnish the main sitting area of this spectacular Stella Maris yacht, designed by Michela Reverberi. The different shades of white created by the rug's many textures light up with a grass green color and reinforce the touch of extreme elegance, glamour and modernity of the yacht."

Courtesy of House of Tai Ping
"This wonderful Edward Fields design sits in the amazing American mid-century Cody House and was shot by the iconic photographer Julius Shulman before he passed away. The Deep reflects the very creative mid-century American pop art movement."

Courtesy of House of Tai Ping
Courtesy of House of Tai Ping
Donna Dotan Photography, inc
Watch W's most popular videos here: