This Still Life Photographer Keeps Moving
W contributor Horacio Salinas talks about embracing his weirdness, shooting a pig, and why inspiration is overrated.
---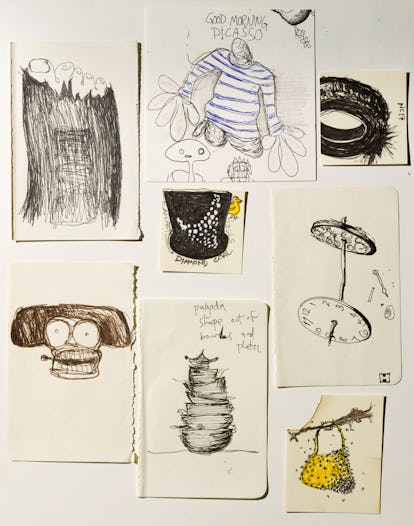 Horacio Salinas has shot still lives of coal encrusted hands clutching priceless diamonds, yellow accessories dripping with honey and covered in bees, and a My Little Pony figure festooned with Chanel rings. But coming up with such weird and wonderful ideas for publications like Vogue, The New York Times Magazine, and W is not enough to keep his imagination occupied. In fact, photography was his plan B. Salinas is also an illustrator and filmmaker. Here, he talks about embracing his weirdness, shooting—and almost buying—a pig, and why inspiration is overrated.
How did you get into photography? At the time it had more to do with being honest with myself about what I was best at… or less worse at. I really wanted to become a draw-er, not an illustrator, but a straight up draw-er. The major problem with my plan was that I sucked at drawing. After many frustrating attempts at becoming an "artist," my life-drawing professor pulled me aside for a moment and said, "Maybe this is not for you; maybe try photography?"
How are you inspired differently when creating your personal work, such as the Tires images from the Contradictions show at Hasted Kraeutler, as opposed to commissioned assignments? I don't feel like I get inspired by anything, to be honest, it feels more like there's this person (me) and inside his brain already exists every image or creation that he will ever create. It's already been done inside of me, my job as an artist/photographer is to get it out in one piece. Whatever it is that I'm going through or experiencing at that time contributes to the tone of the work, but basically it almost always feels like it's already done in my head. I realize how crazy this sounds, I would also like to add that I've smoked weed maybe three times in my life.
After developing the concept, what is your process like? I do a ton of research, and I like to sketch many variations of ideas. Most of the time the magic moment happens on the sketchbook. The photographic process almost feels secondary.
What were some important factors that helped you develop your unique style? When I was seven years old, I went to Argentina to visit family for a few weeks. When it came time for me to fly back home, my uncle accompanied me out to the plane—the propellers, the noise, the wind, the emotional goodbye. I don't know what exactly embedded this moment in my memory but he crouched down on his knee, looked at me straight in the eye and said, "Don't ever try to change who you are." When I first started shooting on my own I was trying to do what everybody else was doing. Making beautiful pictures of things, formulaic lighting…. it sucked, and I was not getting anywhere with it. I was trying to compete with some of the greatest still-life photographers in the world by doing the same thing that they were doing. It seemed hopeless. I had a vision of what I would become—an average photographer—and it scared the shit out of me. I started looking at the doodles that I would make on note pads, all the correlations that I would make with things; for example the similarities in design between UPS and Louis Vuitton. Brown and gold. That weirdness about me that made me unique. I became more and more interested in nourishing this weirdness. That was a great moment for me, and the beginning of accepting myself, I guess.
What are some of your favorite images from your career? There are so many, I have a great memory behind every one. One in particular comes to mind. Jody Quon from New York magazine asked me to do a photograph illustration of the swine flu, so I photographed a little piggy resting on a little bed with a thermometer in its mouth appearing to look sick. The pig owner/wrangler was this tough-as-nails farmer who was also a world-class rodeo bull rider. At one point during the shoot the pig bit his finger really hard, blood was everywhere but the farmer dude did not even flinch. He was so cool. He later realized how fascinated I was with the pig so he offered to sell it to me for $50 dollars. I don't know why but the whole time I was photographing this little pig I was thinking of how good he would taste and how I would cook him. I didn't buy the pig.
"This body of work consist of memories and experiences that occurred in my life that lead directly to the discovery of photography and or the creation of specific photographs." – Horacio Salinas*[/caption]
How do you maintain your signature style when working with different magazines? It's a very delicate process. My very first editorial assignment was with Teen Vogue, the topic was Crystal Meth, and the photo editor told me that the image had to be beautiful yet scary at the same time… but not TOO scary. After all, this was a magazine for teens. She also mentioned that being that this was my first time working for the magazine that if I failed I would not get asked to work for Teen Vogue again. (No pressure.) It's a very difficult thing to pull off. I think it's a combination of two factors. One, understanding exactly who your audience is. Two, fighting for your image till the very end.
How do you make your studio conducive to creativity? For the longest time I had this little collage up on my wall. I had found this little piece of leather that was the perfect hue and tone of how I like my coffee. I cut a coffee cup silhouette out of it and stuck it on my wall, with two little teeny crumbled up pieces of paper that would represent the amount of sugar that was needed to make the coffee exactly how I liked it without actually saying anything to anyone. I also wrote above it, "Do it like this." This way of thinking is very important in my process. The objects that I use to make the pictures that I do have to be exactly the right color, shape, size, etc… It's very hard to explain to a stylist or anyone for that matter that you need to get make up brushes that look like a baby chick if you look at them from a certain angle. So basically I end up doing it myself.