Whoopi Goldberg and Tavi Gevinson Lounge Poolside at Thom Browne's Glamorous, Retro Spring 2017 Show
Browne's pastel dreams came to life in his elaborately staged New York Fashion Week show, a spiritual successor to his Paris men's show over the summer.
---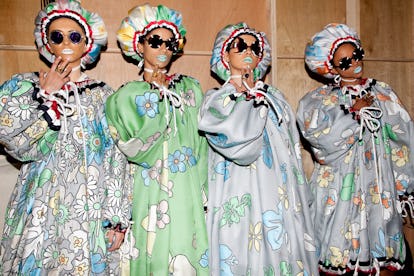 Backstage at Thom Browne NYFW 16
Thom Browne regularly transforms the cavernous space at Chelsea's Skylight Modern into something out of a different place and time: past seasons have seen Washington Square Park at the turn of the century, a classroom of Japanese schoolgirls, and a 19th-century operating theater that earned numerous comparisons to The Knick. His Spring 2017 show was no different, as he elected this season to turn the gallery into a pool party straight out of the '60s, complete with slick, bright tiles delineating water, land, and puffy clouds rolling by. The models themselves wore caftans, secured at neck and knee with drawstrings and pillowy swim caps; as the music changed, they pulled at the ties holding their outfits in place and tugged them free to reveal trompe l'oeil dresses and tousled hair beneath. (The sunglasses stayed.)
The pool party theme, Browne said, was "loosely referencing" a vintage Slim Aarons photograph of C.Z. Guest poolside at Palm Beach. Aarons has long been a darling of the fashion world — his images documenting the lives of wealthy Americans has earned him admirers like Anna Sui, who based her Spring 2004 collection on his book, A Wonderful Time — but few have done it in the obsessive detail Browne devoted to this pastel fantasy. (With the same Grecian columns at the foot of Browne's runway that appear in Aarons's image, the reference seems more than 'loose.') It was the retro, 60s inflection that also prompted the Valley of the Dolls-inspired score. Still, it wasn't all sourced from the archives: The models' reflective sunglasses in fun, nautical shapes (angelfish, whales, and life preservers) and pop of pastel lipstick gave the looks a contemporary edge.
Behind the Scenes of Thom Browne Spring 2017
But the party didn't truly begin until the music changed again, and the models pulled away the dresses to reveal red, white, and blue cashmere bikinis and bathing suits. A model stepped into the center of the party in a shimmering silver dress with a dog-shaped hat as her crown; a light struck her at just the right angle and the room was suddenly alight with disco ball sparkles.
"I love the idea of the volume of the caftans on top of the simplicity of the trompe l'oeil tailored pieces," Browne explained after the show. "They needed something underneath, so I thought it would be fun to put a cashmere bikini on."
Whoopi Goldberg, fashion week's most ubiquitous star, sat on the sidelines, taking it all in. She was fresh off an appearance in Opening Ceremony's quirky, politically charged pageant, and before that, Hood By Air's Pornhub-sponsored show, but Browne's elegant performance was a wholly different production.
"I have my eye on anything I can wiggle my very large derrière into," she explained of her numerous NYFW appearances. Wearing a white button-down and patterned socks with clogs, eyes painted across their front, she nodded to the man sitting next to her, dressed in a dapper bright blue suit: her business partner, Tom Leonardis. "He wears insane suits, and then there's me, so we're a good combination."
Actress — and former Fashion Week wunderkind — Tavi Gevinson also joined the party; she was given custody of Browne's dog Hector (an animal not quite of the stature of Choupette, but still with a modest Instagram following) for the occasion.
This season's show was also a spiritual successor to the men's show in Paris: four models dressed as tomcats, two as parrots, two as seagulls, and that disco-ball dog rounded out the cast. The birds were a holdover from the Paris show, where, staged against a black sand beach, the models had similarly pulled off layers of garments to emerge anew, first in a trompe l'oeil suit and then in a patterned wetsuit, Browne's signature tricolor swiped across the front. (Wetsuits might be the new silhouette du jour.) Their function was narrative, too: As they tapped each model on the shoulder, she seemed to awake from her slumber, walking trance-like down the runway and back to her original position. Thom Browne's pastel dreams, come to life.
See W's most popular videos: