Thom Browne's Mid-Century Office Fantasy
The designer takes over Paris's Le Bon Marché.
---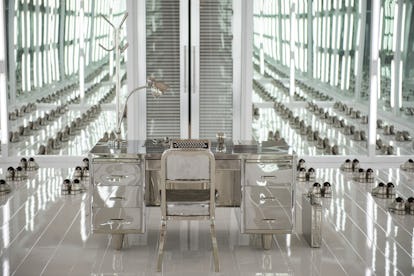 Right now Thom Browne is the featured designer at Paris's Le Bon Marché, where he has installed an elaborate installation and pop-up as part of the department store's Brooklyn Rive Gauche celebration of American style. Included are pieces from Browne's men's and women's pre-collections and fall '15/16 with special designs like whale instarsia Irish fisherman's knits. He's also making his semi-made to measure "Made in New York" pieces available outside his Hudson Street store for the first time. And might we suggest you accessorize your shrunken tailored suit with, say, some Steuben teardrop champagne coupes, Thom Browne logo-labeled brown paper lunch bags, a Mathieu Matégot bar cart, or Jansen side table and Jacques Adnet chairs—all personal favorites, and just the kinds of things you might find chez Thom.
Here, the designer opens up about his inspiration:
How did this Le Bon Marché project develop? This installation is a distillation of a lot of different shows from over the last ten years. There are elements like the silver shoes that come from my Spring '13 men's show and also the fact that my mother silver-plated my first pair of shoes. The silver desks are from the Pitti show I did in Florence in 2009. And the idea of an infinity box or a mirrored room comes from my Spring '15 women's show in New York.
Why are you so attached to the mid-century office? There's something very comforting about the uniformity of it. It's a timeless sensibility going back to the '50s and '60s, a beautiful, effortless era that has always inspired me.
Your clothes are often uniform-inspired, but your shows are fantasy-driven by everything from "Tron" to men in kimonos, 19th-century funeral dress to astronauts. How do you combine the two extremes? One of the main reasons the shows are so important is that they make the classic grey suit interesting every season. They also make me interested in what I'm doing every six months.
What draws you to the color gray? It's timeless and comfortable and I like that it doesn't feel so much a part of fashion. There's something reassuringly non-fashion about grey.
Do you consider your style quintessentially American? I do have a very American aesthetic and I'm proud to be an American designer, but in my shows I keep myself free to be able to do anything I want to do. That said, there are always a lot of American references, from preppy east coast to university athletics, in my collections.
Were you interested in fashion when you were growing up? I didn't grow up thinking about clothing at all. I grew up with classic American clothes and my parents who were both professionals looked very classic all the time. Fashion wasn't something we grew up thinking about. We were more into sports than clothes.
Photos: Thom Browne's Mid-Century Office Fantasy
Thom Browne at Le Bon Marché.
Thom Browne at Le Bon Marché.
Thom Browne at Le Bon Marché.
Thom Browne at Le Bon Marché.
Thom Browne at Le Bon Marché.
Thom Browne at Le Bon Marché.
Thom Browne at Le Bon Marché.