Thom Browne Envisioned a Retro-Futuristic Olympics for Spring 2021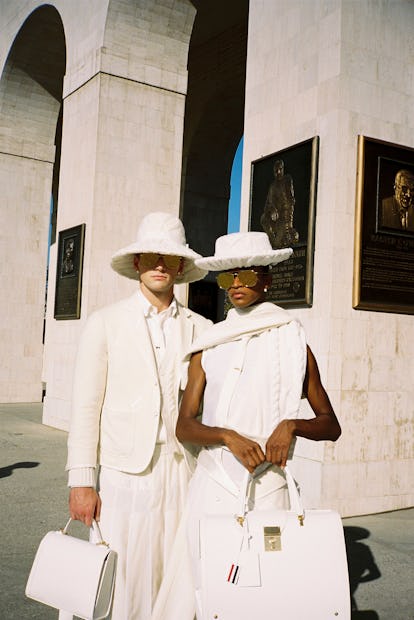 Courtesy of Thom Browne
The last time Olympic track and field runner Kendall Baisden entered the rounded gates of the Los Angeles Memorial Coliseum was for a University of Southern California football game, years ago. Last week, she went there for another reason entirely: Along with fellow Olympians Race Imboden and Steele Johnson, she starred in Thom Browne's spring 2021 fashion show, which was recorded on video and released as part of Paris Fashion Week today.
The event was a 2020 pivot for all parties involved: Imboden, a fencer, and Johnson, a diver, were slated to go to this year's Olympic Games in Tokyo with Baisden, before they were canceled. And Browne, who shows every year in the French capital during fashion week, was forced (like every designer) to adjust his plan for a new collection according to the limitations brought on by the coronavirus pandemic.
The designs in Browne's collection for spring—done completely in white, with elongated proportions and a set of beekeeper-like, cable-knit hats—referenced the 1924 Olympics—the garb worn by a tennis player named Suzanne Lenglen, specifically. This aesthetic is reflected in the white polo shirts, which extend to the thighs, and drop-waist skirts that nearly touch the floor, all infused with Browne's trademark uniform look.
When we speak two days before the unveiling of the video, Browne is in his office in New York dressed in his standard a white collared shirt, black tie, and gray vest. "I always am inspired by athletes at that world-class level," he said, explaining his reasoning for shooting in the Coliseum with the Olympians. "I swam through high school and college, and I know what it takes to be even at that level—the commitment and the time that is put into it. I was so competitive throughout my childhood, it is something that is so ingrained in me: every show, I want to be better than the last. Every collection, I want to be better than the last. To even have the rigor and the stamina to be able to keep to the fashion calendar and schedule is something that I do feel like I got from doing this sport."
Browne applied this same ethos to shooting the video for his spring 2021 unveiling—if it wouldn't be an IRL runway show, the designer wanted the spectacle to impress nonetheless. The concept of the short is this: the models and athletes wearing Browne's line are part of a recreation of an Olympic Opening Ceremony taking place 200 years in the future. The comedian Jordan Firstman and model Grace Mahary are co-commentators, providing analysis while the models (and athletes) walk up and down the steps of the Coliseum.
Browne traveled to Los Angeles to shoot with Imboden, Baisden, and Johnson, all of whom have been forced to adjust their training schedules and regimens since the Olympics slated for this year were postponed. Imboden, who has experience modeling for brands like Marc Jacobs, said he's "taken things back to basics. Gyms were closed for almost six months, so I went back to the way I trained as a kid in Brooklyn: in the streets of NYC." Johnson said he "went from a pool to an apartment when everything shut down."
"Being in the Coliseum rekindled my Olympic spirit," he added, noting the fact that the LA Coliseum will be the home of the 2028 Games.
For her part, Baisden said the pandemic allowed her to shift her spiritual, mental, and physical states for the betterment of her training. She realized she needed to become more aware of balancing her mind and body in order to push past the uncertainty brought on by lockdown.
"The day before shooting the Thom Browne project, I had just had my first training session of the season," she said. So, I absolutely loved soaking in the project's energy of Olympic spirit and creative excellence. When I looked up from the bottom of the stadium to see the Olympic torch being lit at the top of the stadium, I felt all the emotions; all sense of composure and professionalism was almost lost at that moment. This season is essentially a re-do of what was supposed to be the 2020 Olympic Games season. So, to have an experience like this at the beginning of the journey to the Olympic trials was special."
Related: Thom Browne—Fashion Designer by Reputation—is Also an Artist