Art by Design
The Nasher Sculpture Center celebrates the ingenuity of the British designer Thomas Heatherwick.
---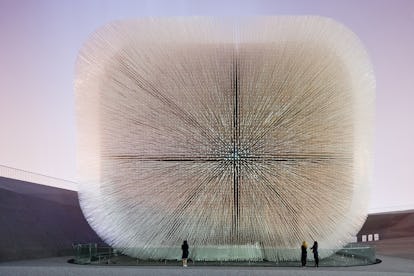 On September 13th, the Nasher Sculpture Center in Dallas presents "Provocations: The Architecture and Design of Heatherwick Studio"—the first stateside retrospective of renowned British designer Thomas Heatherwick. Curated by Brooke Hodge, the new deputy director of the Cooper-Hewitt, the exhibition examines the breadth of Heatherwick's work from his now-ubiquitous Spun chair to the monumental Seed Cathedral, which he created for the 2010 Shanghai World Expo. In an unorthodox move, Heatherwick is not only the subject of the show, but also the exhibition designer. "Brooke's idea was that there is a distinct starting point or root idea from which each of our projects springs—and those ideas often drive the process and ultimately lead to what the project becomes, almost like a provocation," explained the designer. "So, this show is a really a collection of many provocations manifested as design.
To highlight the range of his work, Hodge and Heatherwick worked together to create meaningful juxtapositions of scale, materials, and function throughout the exhibition. "The idea was to allow people to make their own visual connections by placing unlike things together," said Heatherwick. "In the hopes they could better understand the different logics, philosophies, and purposes that are behind these works." The result is a mixture of straightforward architecture, industrial design, and conceptual sketches, speaking ultimately to the fluidity of his practice. When asked whether he considered himself more of an architect or designer, Heatherwick responded: "I design. You don't architect something you design it. I am more interested in the verb. My passion is doing." Looking at his DIY-retrospective, it is hard to disagree.
The UK Pavilion. Photo by Iwan Baan.
The UK Pavilion. Photo by Iwan Baan.
The UK Pavilion. Photo by Iwan Baan.