So Thor: Ragnarok Is Actually a Comedy?
Critics are praising Chris Hemsworth's Thor: Ragnarok as the funniest installment of the Marvel saga.
---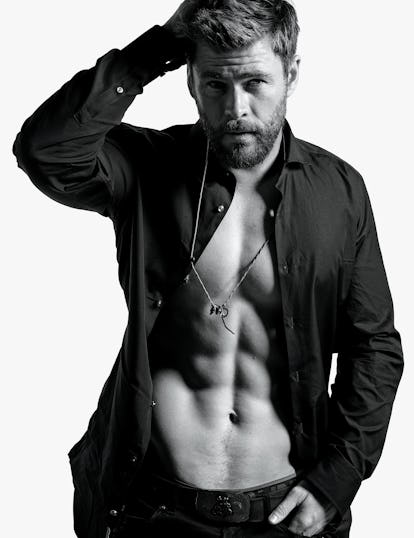 Photographs by Mario Sorrenti. Styled by George Cortina.
In Marvel's Avengers saga, The Hulk is known for smashing things, Iron Man is known for his nuclear-powered heart, Captain America is a patriot with a buff body, and Thor is… a comedian? The reviews are in, and the latest Thor movie is being touted by critics as the funniest installment in the Marvel Cinematic Universe.
Chris Hemsworth straps into his performance of the Norse God of Thunder, alongside Tom Hiddleston as Loki, Mark Ruffalo as Hulk, and Anthony Hopkins as Odin. With Cate Blanchett as Thor's villainous older sister, Jeff Goldblum, and Tessa Thompson in tow, the film's A-list cast partakes in a self-aware romp that apparently knows no bounds when it comes to parodying itself.
Variety calls Thor: Ragnarok admittedly "preposterous," but also the best of the three films in the Thor franchise, and Forbes reports that the movie is predicted to earn at least $100 million at the box office. This is thanks in part to the film's director (and CGI creature Korg in the film), Taika Waititi, who The New York Times commends as the "superweirdo" tasked with recalibrating an otherwise boring subset of the Avengers franchise. Entertainment Weekly lauds Waititi as "proof that these films can and should get a little weirder" due to his stylistic commitment to heightening the absurd. While at this point, it is by no means shocking to read that a Marvel movie is expected to bring in beaucoup bucks, the endless glorifying reviews of Thor: Ragnarok do lead to one question—could this movie really be that funny?
From start to finish, everyone involved in the film puts their comedic chops to the test, and apparently succeeds. Thor: Ragnarok hasn't even hit theaters yet and is already rated 100% fresh on Rotten Tomatoes. Never mind the fact that Academy Award-winning director Martin Scorcese has denounced the Rotten Tomatoes rubric as antithetical to "real" film criticism, it is still impressive that Thor: Ragnarok has achieved that perfect score before its November 3 release. Thor's laughing all the way to the top of the box office, apparently.
Related: Chris Hemsworth on Why Weightlifting Alone Isn't Enough to Get In Superhero Shape for Thor