Three Billboards Director Responds to Backlash: I'm "Not Making Films for Six Year Olds"
"We're not making The Avengers. We're trying to do something that's a bit little more difficult and more thoughtful."
---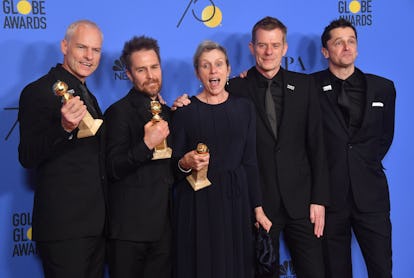 FREDERIC J. BROWN
In a crowded and diverse awards season, Three Billboards Outside Ebbing, Missouri has emerged as something of a polarizing front runner. The film has racked up top honors at the Golden Globes and SAG Awards, and is nominated at several upcoming award shows, including the Oscars. Actors Frances McDormand and Sam Rockwell have also emerged as frontrunners in their individual categories, but following the early critical raves and statuette success a backlash has formed. The issue? Rockwell plays a crooked, bigoted and downright stupid cop who is prone to random acts of violence and once tortured a black man in custody, an incident his superiors are willing to look past. Of course, as with most movies, the character is challenged and undergoes changes as a result, and some view his ultimate arc as too tidy of a redemption story that excuses his previous actions in the process.
Writer and director Martin McDonagh has now broken his silence on the criticism, admitting that while it stung, he ultimately doesn't agree.
"I don't think his character is redeemed at all – he starts off as a racist jerk," McDonaugh told Entertainment Weekly. He's the same pretty much at the end, but, by the end, he's seen that he has to change. There is room for it, and he has, to a degree, seen the error of his ways, but in no way is he supposed to become some sort of redeemed hero of the piece."
He added that the film is supposed to be provocative and is "deliberately messy." Even the protagonist of the film played by McDormand isn't free from sin. She's certainly not a straightforward hero, either. Still, McDonagh was hurt by the criticism.
"I kind of get hurt and wonder, why doesn't everyone love it?" he said. "But I don't like films that everyone loves. And we're not making films for six year olds, we're not making The Avengers. We're trying to do something that's a bit little more difficult and more thoughtful."
McDonagh first developed the idea for the film decades ago when he passed a billboard somewhere near Florida asking for help with solving a mysterious murder (in the film, McDormand put up three billboards criticizing the local police department for not doing enough to capture the person or people who raped and murdered her daughter). McDonagh wrote the script about eight years before production, but it arrived at a time when the film's theme touches on current events like the Black Lives Matter movement, concerns over police brutality and corruption in general, and Time's Up.
Ultimately, the backlash may not be to blame if Billboards loses the Oscar for Best Picture, but rather's the Academy's particular voting process for the awards. Voters rank their favorite pictures rather than ticking a box next to their favorite, like they do for other categories at the Oscars and in Best Picture categories for most other awards. That dynamic doesn't bode well for films that have proven to be polarizing, and in part, that's why most prognosticators are claiming the The Shape of Water is now the safe bet. McDormand or Rockwell's individual odds are still good, though–they're both very much front runners in their categories.
Related: Sam Rockwell Prepared For His Oscar-Nominated Role in Three Billboards Outside Ebbing, Missouri By Spending Time with Real Cops and Practicing His Drunk Accent