Turning Over a New Rock
Erika Angell of Thus Owls talks about her grandmother's house, Sappho, and discovering America.
---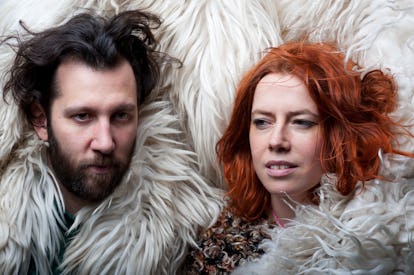 Although they already have two albums under their belts—Cardiac Malformations (2009) and Harbours (2013)—and several international tours, Erika and Simon Angell, better known as Montreal-based, Swedish-Canadian experimental pop duo Thus Owls, are still relatively unknown in the United States. But all that's about to change with the release of Turning Rocks, an album that evokes the ethereal sounds of Björk and Portishead, adding an odd array of instruments and techniques. (In one song Simon blows up a balloon and deflates it slowly over his guitar pickups.)
Here, Erika shed some light on her process and reveals the band's next move.
Turning Rocks is about your childhood home in the village of Orust, 44 miles north of Gothenberg, Sweden. What was it about the house that inspired you? It started with my grandma. She grew up in this house, on the same land and in the same woods as I did. During the last few years she's been telling me many stories about her childhood and the people living there back in the day. It has made me reflect upon the fact that the emotional travel we do as human beings, in passion and in struggles, is somewhat similar throughout time even though everything around us changes so drastically. I started writing down thoughts, questions, memories and reflections. The house became the center of the story and all the people that come up in the songs are somehow connected to this house.
Was it something you've had in mind for a while or did it materialize after the release of Harbours last year? I realized, not long ago, that the reason my family's house is at the center of Turning Rocks probably has a lot to do with my recent move to Canada. I think this whole process, building a new life for myself in Montréal, forced me to look back to better understand where I come from. But I've also always carried a fascination for poetry that is written ages ago but still has the ability to move us in our present time. So the seed for this record might have been planted when I read Sappho for the first time.
Is nostalgia the driving force behind all of your work? No, I'd say this is kind of the first time I've written from a nostalgic point of view. My earlier songs have almost always treated more personal and inward looking subjects that have happened close to the moment of creating them. More like diary notations of my present life. Turning Rocks definitely treats my own perspective but it's also more than ever someone else's story.
How has the band's sound evolved since the beginning? The evolution and the exploration in our music is necessary in order to keep us interested in it. It's a way to discover, develop and learn new things and since music is our way of expressing ourselves, it will keep changing along with us. With Turning Rocks we decided that we wanted to create something with a more direct voice and I think we succeeded there. We still keep coming back to some things that I guess are characteristic for Thus Owls—the music still carries dark as well as light, it's still somewhat complex and layered in the arrangements, and we still add the odd little twists to everything we do. But the fact that we met Parker Shper (keys) and Stefan Schneider (drums) had a big impact on the new sound. Every new band member brings in a voice.
Do you plan to tour extensively in the United States? Yes, it makes much more sense now that we're living so much closer. I love touring the States; it's so diverse both in nature and in people. The U.S. is still a very foreign place to me and I feel that I learn a lot about myself and about humanity in general when I'm there.
Turning Rocks will be available on iTunes Tuesday, April 8.