Girl, Please: Tiffany Haddish on Girls Trip, the Bill Cosby Nonsense and Taking Revenge on Ex-Boyfriends
The breakout star of Girls Trip is unapologetic about her comedy and her growing fame: "I don't agree with what [Cosby] did. I mean, I've been a victim of that before."
---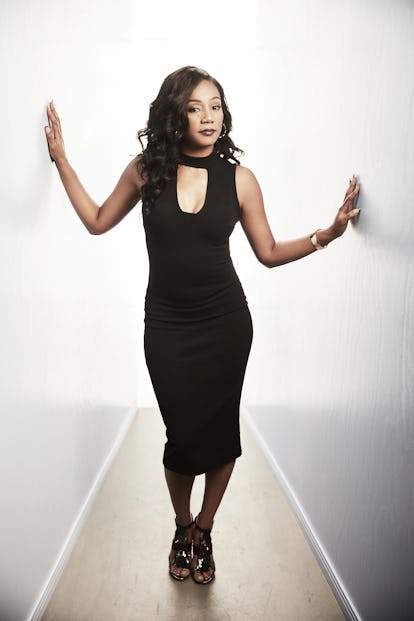 Maarten de Boer/NBC
Tiffany Haddish ends a phone call by saying, "I hope something magical happens to you today." Coming from another celebrity that might seem trite, but the sentiment felt genuine with the unguarded Haddish, newly famous thanks to her no-holds-barred performance in the comedy hit Girls Trip. Haddish has generated massive and deserved amounts of hype for her performance as Dina, the loose cannon among a group of friends who have a fateful reunion. Dina hides weed in her "booty hole," spikes drinks with hallucinogenic absinthe, and aggressively mimics oral sex on a banana. And all this isn't to say that Haddish's performance opposite Regina Hall, Queen Latifah, and Jada Pinkett Smith loses any nuance in its outrageousness.
Girls Trip is an auspicious start, but Haddish's stand-up special offers a more complete portrait of the comedian. In She Ready! From The Hood To Hollywood, debuting August 18 on Showtime, Haddish tells the story of her life, finding laugh lines in topics ranging from the foster care system, awful men, and, once again, that time she showed Will and Jada Pinkett Smith the wonders of Groupon and New Orleans swamps. Haddish gives the impression of being an open book, and it's with that honesty that she's also been weathering her first scandal, stemming from a joke she made about Bill Cosby in a Los Angeles Times interview. "I know what that feels like to be a victim," she told W. "And because of being victimized I refuse to let anybody take my power, I refuse to be afraid of anybody."
What's been the craziest thing that's happened to you in the past couple weeks surrounding the Girls Trip release? The craziest thing that happened to me surrounding the release would probably be on Sunday I went to a movie theater to watch it with my fans and friends and family and stuff, and they were, like, surrounding me. And I was like, "What? Why you all surrounding me? You know me." Everybody was acting different. People have been acting real different. They say, "Don't start changing. Don't change when you get famous." But people change. I am the same. Before they talk to you like, "Yeah, girl, what's up? Are we going out tonight?" Now it's like, [puts on voice] "Oh my God, Tiffany. I'm so proud of you. What's going on? Do you want to get tea?" And I'm like, why are you talking like that? What's wrong with you? That's the craziest thing I've noticed so far. Tea? Really? Tea? Who are you? You drink vodka just like me. Why are you asking me to get tea?
Have you heard anything from Groupon after telling that story on Jimmy Kimmel Live? No, I haven't heard a thing from Groupon. They might think I'm too vulgar or something. I don't know. I'm just guessing. I haven't heard a thing from them. One of my friends was like, "They probably ain't called you because you be cussing and stuff in your comedy." And I'm like, "Well, they sell sex toys so I don't care."
Tiffany Haddish on Jimmy Kimmel Live.
I'd love to get your take on a tweet I've seen being passed around. It says: "Tiffany Haddish is [37]. Mahershala Ali is 43. Toni Morrison didn't write her first novel until 39. Oprah was fired at 23. YOU HAVE TIME." It's about the fact that your dreams can happen at any age. What is your response to that sentiment floating around and being used as an example in that way? It's true. I believe it's true. If this would have happened to me at 23, at 24, I wasn't ready then. I would probably be a complete train-wreck right now. I would be a mess. I wasn't mentally or physically ready for what this takes. Being able to get on a plane and go here and go there and talk to people and talk to them with intelligence—I wouldn't have been able to do this in my 20s. I think God gives you everything when you're supposed to have it, when you can handle it. I can handle it now. Girl, please. I would have been a damn mess in my 20s. Even as a teenager—shoot, I would have probably been one of them teens on drugs. Because this is not an easy life. You have to be mentally strong to do this.
You've obviously talked a lot about the grapefruit scene in Girls Trip, which is amazing, but I wanted to ask you about performing that pivotal moment toward the end of movie when Dina essentially tells her friends she's not just a joke. What was it like doing that especially given the relationship you developed with these women on set? When we shot that scene we had only been working together I think like two weeks, three weeks. And I felt super close to Jada already. I felt really close to Regina and Queen. So when we did that scene I just started thinking what it would be like if they all just turned on me one day. How would that feel? How hurt would I be? And then I had to think back to when I was in a group home and I thought all the girls were going to jump me because they were like, "Oh, you think you all that because you're funny, because people laugh at what you say? You get your ass beat in here." Everybody turned on me and I kind of loved these girls. But that never heals, though. In the movie we healed. I just thought of that.
Your special is very autobiographical. What are you hoping to convey with it? I'm hoping that people see it, especially women, and see that no matter what you've been through, no matter where you come from, no matter the good or the bad, life can be exactly what you want it to be. It might not be exactly, but you can achieve the goals that you want to achieve. I've been doing comedy almost 18 years and I have not been able to get a special done. It's always like some craziness. So I wanted to put that out there, but I also wanted to let people know who I am and give them a sense of why I act the way that I act, why I carry myself the way that I carry myself. I hope that comes across and gives people an understanding and makes them feel like, "Hey, I know her. I know that girl. I've been through that before. I've been bullied. I've been at the one hour photo taking pictures thinking I'm cute and it's not. I've been heartbroken, a man cheated on me, hurt me, and I wanted to do something to him, but I didn't think to poop in his shoes, that's genius."
But you really did that. Oh yeah. I really doo-doo'ed in a man's shoes. Yes, I did. And you want to hear something funny? I decided not to put it in the special because I don't know the girl, but my sister was telling me that she told her friend about what I did to the dude's shoes, and her dude had cheated on her and he just got a brand new car so she put poop in his glove compartment. So he's driving around for weeks smelling poop and he don't know where it's coming from. He didn't know it until the police pulled him over and he had to pull out his registration and there's poop all over his registration. See, that's good with me. My next episode, I'll just do five minutes on good ways to get revenge and not go to jail.
You're going to inspire a wave of poop-related revenge. Well, dudes will know better. Don't poop on me and I won't poop on you. Treat me right and I'll treat you right.
There's been some blowback online to your comments in a Los Angeles Times about wanting to still work with Bill Cosby. What is your reaction to that? The reaction to that blowback is: It's a joke. I was saying I'm not afraid of this business. I'm not afraid to work with people. I'm not afraid to take chances with my comedy. It might not have been a very good joke, and if you do 27 interviews in a day and you're trying to be humorous in all of them you're going to do it with some bad jokes. I'm not afraid to take chances, and when I'm on stage I will take a chance. I might say something really dumb or I might say something really thought-provoking and genius, and when I'm acting in front of a camera I will take a chance and make a choice. It might be the right choice. It might not be the right choice and the editor cuts it out and nobody ever sees it. I was trying to convey that I'm not afraid of the big bad wolf. Maybe I should have just said that instead of saying Bill Cosby and that "I'll drink the juice." My bad. My bad, people. If you listen to the Champs podcast that I did with Neal Brennan a few years back, you'll know that I don't agree with what he did. I mean, I've been a victim of that before. I know what that feels like to be a victim. And because of being victimized I refuse to let anybody take my power, I refuse to be afraid of anybody. I'm going to stand strong in my belief in what I want to do. Donald Trump is out here grabbing coochie, but he's the president. He's a hero to a lot of people. No hero goes without sin. You show me one human who has done something great for every human and show me that they didn't make any mistakes. You will not be able to do it. Because nobody is perfect. And some make bigger mistakes than others and they should definitely pay for them, but a lot of times people get away with stuff. I can't even understand that. That's a whole other conversation that might make me cry.
You also talk about your experience with domestic abuse in your special. Is your honesty also in keeping with not being afraid? Yeah, I'm not going to let what happened to me control my existence or define who I am. I'm going to share it because it might help somebody who is going through the same thing. I don't know I'm going to talk about it. I'm sure my ex-husband would love it if I wouldn't say a damn thing about it and I would have stayed with him and kept letting him choke me and beat me up. I'm sure he would have loved that. But no. I'm calling the police on you. I'm going to live my dream. You're not going to stop me from doing what I love to do.
Naomi Campbell: The First Lady of Fashion
Nina Ricci jacket and skirt; Cornelia James gloves (throughout); Hermès bag.

Photographer: Willy Vanderperre Stylist: Edward Enninful
Giorgio Armani jacket and skirt; Kiki de Montparnasse bra; Nancy Gonzalez bag; Philippe Matignon socks (throughout); Marc Jacobs shoes (throughout). Beauty note: Win them by force of legs with Michael Kors Liquid Shimmer Dry Oil Spray.

Photographer: Willy Vanderperre Stylist: Edward Enninful
Prada jacket and skirt. Beauty note: Speak softly, but carry a sexy pout with MAC RiRi Lipstick in Nude.

Photographer: Willy Vanderperre Stylist: Edward Enninful
Dior coat and skirt; Hermès bag.

Photographer: Willy Vanderperre Stylist: Edward Enninful
Proenza Schouler jacket and skirt. Beauty note: For hair worthy of a head of state, try Aveda Damage Remedy Restructuring Conditioner.

Photographer: Willy Vanderperre Stylist: Edward Enninful
Michael Kors jacket and skirt; Nancy Gonzalez bag.

Photographer: Willy Vanderperre Stylist: Edward Enninful
Azzedine Alaïa jacket and skirt; Nancy Gonzalez bag. Hair by Jimmy Paul for Bumble and bumble; makeup by Fulvia Farolfi for Chanel Beauté. Model: Naomi Campbell at Marilyn Agency. Produced by Mina Allotey, Adwoa Abrafi Ampiah-Kwofi.

Photographer: Willy Vanderperre Stylist: Edward Enninful
Watch: Actress Sanaa Lathan On What It's Really Like to Do a Sex Scene
Actress Sanaa Lathan On What It's Really Like to Do a Sex Scene