What to Read, Watch and Listen To Now That You've Finished Tiger King
More stranger-than-fiction stories to watch, listen to, or read after watching Tiger King.
---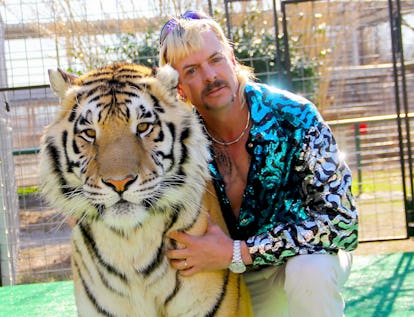 Photo courtesy of Netflix.
Days ago, the phrase "Tiger King" might have meant nothing to you.
But if you, like everyone else under coronavirus quarantine, are really logged on, then you know that this Netflix docuseries is all anyone can talk about right now.
Tiger King: Murder, Mayhem and Madness is a true crime investigation, subculture deep dive, and ethically contentious production all rolled into one. It tells the tale of a man named Joe Exotic, operator of a big cat zoo in Oklahoma, and how his feud with Big Cat Rescue CEO Carole Baskin ended with him in prison for his role in an alleged murder-for-hire plot against Baskin.
The docuseries is based on the second season of the Over My Dead Body podcast (which is now being re-released each week as Joe Exotic: Tiger King) and has now been greenlit as a limited series based on Baskin.
If you've seen at least one of the six episodes in the docu-series, you know that every turn of this story is wackier than the one that came before it. Joe Exotic is a mix of seemingly contradictory identities, but Baskin has her secrets, too. The series has become so popular that even Kim Kardashian is out here wondering if Baskin fed her missing husband to a tiger in the late '90s.
But if you can't wait for the forthcoming limited series (reportedly starring Kate McKinnon, though this seems like a role that would be perfect for Chloe Fineman or Megan Stalter), here are some more stranger-than-fiction stories to watch, listen to, or read in the meantime.
Don't F**k with Cats
Don't F**k with Cats: Hunting an Internet Killer, another docuseries streaming on Netflix, is a three-episode investigation into finding Luka Magnotta, who was arrested in 2012 for killing and dismembering his neighbor Jun Lin, a couple of years after he recorded and uploaded videos of himself killing and torturing cats.
Tabloid
This Errol Morris documentary (now streaming on Hulu) tells the story of 1970s tabloid queen Joyce McKinney, and her involvement in what is known as the "Mormon sex in chains case" as well as a handful of other tabloid sensations that persisted through the following decades. After Tabloid was released in 2010, McKinney slammed Morris and the producers, and sued them for misinterpreting her. As much as a documentary film begs the question, "What is the truth?," Tabloid pushes it further and asks, is there ever such a thing as a reliable narrator?
You're Wrong About
You're Wrong About is a podcast that investigates, well, things that you are probably wrong about. Any cultural phenomenon you thought you knew the whole truth about before—whether that's Anna Nicole Smith, the D.C. Snipers, the O.J. Simpson Trial, Lorena Bobbitt, or even the Satanic Panic—the hosts of You're Wrong About want to set the record straight.
Hollywood Babylon
While many of the stories in Kenneth Anger's Hollywood Babylon have been denied or debunked, it's still a fun, salacious read about Hollywood scandals from the 1920s through the 1960s. And some of the stories are mostly true, like the Fatty Arbuckle–Virginia Rappe rape trial, Sharon Tate's murder, and the lawsuits against Confidential magazine. Charlie Chaplin, Errol Flynn, Judy Garland—no one was spared by the avant-garde filmmaker whose cult collection of stories was banned 10 days after being published in the U.S. in 1965. And if you can't get enough in the first volume, there's always Hollywood Babylon II, Anger's 1984 follow-up which includes scandals from the '70s.