Tilda Swinton Comes Out of the Cloakroom
The actress stars in a new performance piece in Paris.
---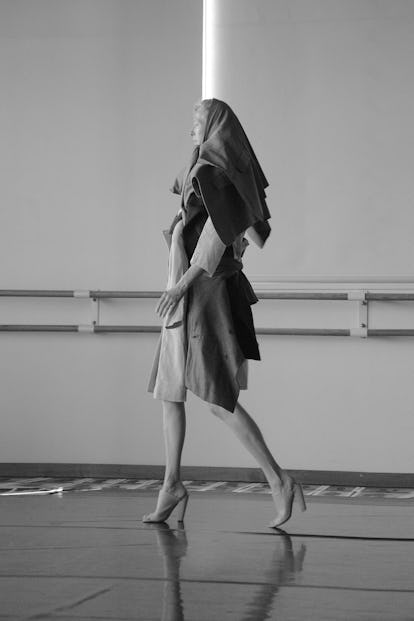 Last weekend at the Festival d'Automne in Paris, the actress Tilda Swinton starred in "Cloakroom – Vestiaire Obligatoire," a performance piece conceived by Palais Galliera curator Olivier Saillard that explores the hidden humanity in the coats, jackets, scarves, bags and other pieces of clothing hanging in the communal closets of formal event spaces. This was not Swinton's first appearance at the annual festival: Last fall's "Eternity Dress," dramatized the many stages in the creation of a made-to-measure dress featuring Saillard as the "petit main" with Swinton, his opinionated fitting model, on a pedestal. And the year before in "Impossible Wardrobe," Swinton wore white gloves to explore the inner thoughts of iconic pieces in Galliera's fashion archives. "Cloakroom" marks the first time Saillard's subject is everyday clothing and the first time Swinton will rely mainly on improvisation as audience members are invited to check a coat or a hat or the like before the show begins. "Cloakroom" will next move to Florence in January, for the Pitti fashion tradeshows. It's definitely worth checking out.
Photos: Tilda Swinton Comes Out of the Cloakroom
Tilda Swinton. © Katerina Jebb, 2014
Tilda Swinton. © Katerina Jebb, 2014
Tilda Swinton. © Katerina Jebb, 2014