Well, Tilda Swinton and Pedro Almodóvar are Back to Work
The actress is in Spain, making a short film with the director Pedro Almodóvar
---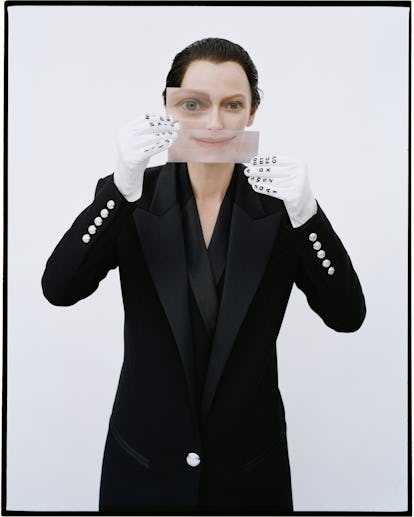 Tim Walker
In normal times, if you would have shown us a picture of Tilda Swinton in a giant plastic face shield and Pedro Almodóvar in a black face mask we would have just thought, "Oh, those two are cooking up something wild!" Of course, that picture in these time signified that they've gone back to work after the worst of the coronavirus pandemic in Europe.
The photo was tweeted out this morning by Almodóvar's producer brother Agustín Almodóvar, and served as the unofficial announcement that production on The Human Voice has begun. Announced in February, the project is a short film in which Swinton's only co-star will be a dog (an animal Swinton loves). That, at least, makes navigating on-set social distancing somewhat easier. Almodóvar's characters usually can't stand to be six inches from each other, let alone six feet.
The project will also mark Almodóvar's official debut in the English language. The Spanish director has long thought about filming in English, but claims it was the allure of working with Tilda that finally pushed him to do so. One can't let Luca Guadagnino have all the Tilda fun. If all goes well, Almodóvar may follow up the project with a feature-length film in English as well.
The production is underway in Madrid, which had been hit hard by the virus in the spring. At one point, Spain was only behind the U.S. as the virus's global hotspot. Though Spain, like many European countries, has had much more success at containing the virus than our own country. New cases leveled off to fewer than an average 1,000 per-day back in the middle of May. That was around the time that the European Film Commission issued guidelines spelling out a safe return to filming.
Related: The Power of Tilda Swinton Has Convinced Pedro Almodóvar to Make Films in English