Girly Boy
Having made a name for himself with his men's wear line, Tim Coppens is showing his fairer side—finally.
---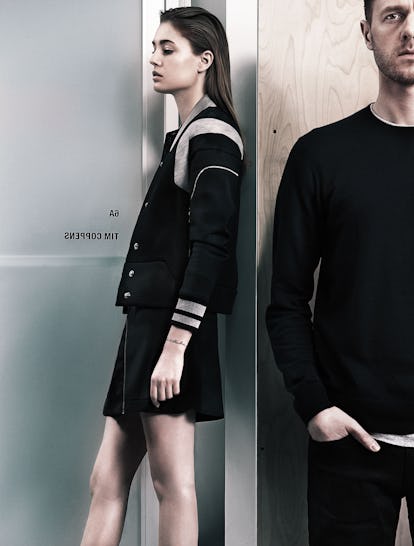 After two seasons of punctuating his men's runway presentations with a few women's pieces—purely for show—Tim Coppens has given in to the demands of store buyers, fashion editors, and the female customers who have been scooping up his streamlined bombers and paneled sweatshirts in the smallest sizes available, and officially launched a women's collection. For most designers, this would be cause for at least a little fanfare; not so for Coppens. "Perhaps it's because I'm Belgian," says the 39-year-old, who is far more genial than he appears in photographs. "I don't like to make too much noise."
A graduate of the esteemed Royal Academy of Fine Arts, in Antwerp, where he studied both men's and women's design ("You don't do one or the other there—you just make clothes," he explains), Coppens has long taken a measured approach when it comes to his career. He spent more than a decade working for Bogner, Adidas, and Ralph Lauren's performance label RLX, gaining experience and building connections before striking out on his own in 2011. He would have taken more time to hone both his business strategy and his debut collection, he says, were it not for an introduction to the Barneys New York men's wear buyer Jay Bell, who placed an order on the spot for the few pieces Coppens had already created. In the less than four years since, Coppens has not only acquired several dozen more store accounts but has also racked up a number of prestigious accolades, including being named a finalist last year in the inaugural LVMH Young Fashion Designer Prize.
Coppens's appeal lies in his well-defined aesthetic, one that elevates athletic wear with precise tailoring and a seamless interplay of traditional and high-tech materials. His women's line follows the same formula. "It's not a separate mentality," he says. "It's not like, 'Now we're going to make dresses.' " Of utmost importance, he adds, is a "youthful, rebellious attitude."
For all his careful planning, Coppens, it turns out, was a bit of a wayward kid—a fact that has begun to reveal itself in recent collections. He spent his early years skateboarding and was occasionally picked up by the police for hitchhiking; at 12, he took his first trip to the U.K., where he was exposed to the Ecstasy-fueled, psychedelic house scene emerging in the late '80s. Both of his spring collections pay tribute to that Madchester period, with blurry neon prints akin to the tie-dye T-shirts that all the kids wore with track pants and white sneakers; for the women, there are also nylon and leather blousons and cotton- jersey athletic skirts. "That street element is very much what my brand is about," Coppens says. "And that's something I wanted to show early on with the girls."
Hair by Shin Arima for Redken at Frank Reps; makeup by Susie Sobol at Julian Watson Agency; manicure by Yuko Tsuchihashi for Chanel at Susan Price. Model: Nadja Bender at New York Model Management. Digital Technician: Mary Fix. Photography Assistants: Andrew Smith, Calvin Laszakovits. Fashion Assistant: Hanna Corrie.