We're in the Midst of a Troubling Timothée Chalamet Drought
The Timée news just keeps getting worse.
---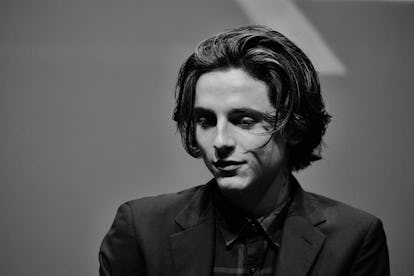 The rules of supply and demand dictate that when we, the consumer public, demand something, the responsible sector is tasked with finding efficient (and profitable) ways to supply it to us. In this case, what we all want is more of that Timothée Chalamet, but the Hollywood industrial complex is having a hard time supplying that this year.
Indeed, the Timothée Chalamet movie supply pipeline is in dire straits now. The actor's two biggest projects for 2020 have been indefinitely pushed back, and the fate of future projects have been cast into doubt. To paraphrase a line from Succession, it's basically a sh*tshow at the Chalam-actory. Not that the actor himself is in any way to blame, but thousands of Chalamet fans are being asked to go without for the time being.
Chalamet was set to have a banner year in 2020 by both reaching new highs as the reigning prince of indie films while also testing his clout as a potential blockbuster star. The global pandemic and its effects on movies theaters in particular had other ideas. The French Dispatch, the actor's first collaboration with twee auteur Wes Anderson, was supposed to premiere this summer. Now, rumors state that the film won't premiere until next May at the Cannes Film Festival, assuming it takes place, before a public release delayed by an entire calendar year. Dune, the sci-fi mega-production anchored by Chalamet and Zendaya, has now also been delayed. The new release date: October 2021, more than 10 months after its intended release.
So, the only new forms of Chalamet to be found on any screen this year is his blink-or-you'll-miss-it Easter egg of a cameo in the HBO show We Are Who We Are.
We guess we could look at the silver lining: going with less Chalamet now means more Chalamet in the future, right? Well, not exactly.
Now, the actor's previously announced-but-not-yet-filmed projects are in jeopardy, too. Chalamet was supposed to star as a young Bob Dylan in an upcoming biopic, but the news out of Hollywood this week is that the film has been put on hold indefinitely.
Of course, there's also the most mythical of future Chalamet projects to consider: the Call Me By Your Name sequel, which everyone involved loves to talk about, but hasn't been officially confirmed as of yet. Well, just recently, Name costar Armie Hammer said he thinks they should wait another 10 years before revisiting the characters. We guess the thirsty comments Hammer recently left on Chalamet's Instagram meant nothing.
The only positive sign of progress at the Chalamet factory lately is the fact that he's joined the expansive VIP cast of Jennifer Lawrence's upcoming Netflix film Don't Look Up. Though, the description and cast list of the film lead us to believe there's a good chance Chalamet's role may be just a small part. Plus, there's no confirmed release date for that project.
Obviously, all of Hollywood has been affected the pandemic and Chalamet is not the only actor whose output has been stalled. But it's not like we're being deprived of everyone's talents. Look at Chalamet's fellow A24 prince Lucas Hedges by way of example. His next film, French Exit, premiered earlier this month as the New York Film Festival and is expected to release in theaters in February. Plus, Hedges will also costar with Meryl Streep in Steven Soderbergh's upcoming HBOMax film Let Them Talk, which has an intended release date in December. Chalamet hive, in contrast, is going through some particularly bad luck.
Though we're sure the actor's career, and his fans, will be fine in the long run. Maybe this is the excuse we need to finally binge Homeland. A pre-fame Chalamet had an eight-episode run on the show back in 2012. It may not be new, but at least it's new to some of us.
Related: Decoding the Mysteries of Timothée Chalamet's Weird Social Media