Timothée Chalamet, Indie Prince, Is Ready to Star In a Sci-Fi Blockbuster Film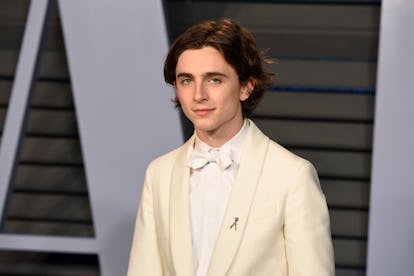 Presley Ann/Getty Images
Ascendant prince of indie cinema Timothée Chalamet is ready to cash in on all the buzz and accolades and make a play for true blockbuster superstardom. Much in the same way Jennifer Lawrence jumped from early acclaim in Winter's Bone to roles in The Hunger Games and the X-Men series, or Brie Larson charted a trajectory from her Oscar-winning part in The Room to a place in the upcoming Captain Marvel, Chalamet is ready to trade in on the notoriety that Lady Bird and Call Me by Your Name brought him and rocket into the kind of cinematic career that might even make your middle-aged, sports-loving father know his name.
Yep, he's reportedly circling his first big, big movie. Though it's a risky choice: No, he won't be playing the Robin to Ben Affleck's Batman (perhaps for the best), nor is he getting his own Star Wars trilogy.
Rather, according to The Hollywood Reporter, he's in talks to star in the upcoming remake of Dune, a project that Hollywood has attempted before, but many have written off as almost unfilmable.
Dune the franchise started back in 1965 with the release of Frank Herbert's first titular novel. In some ways, the premise is kind of like Game of Thrones in space, in that various noble families control planets and are constantly battling it out for supremacy. The major twist, however, is that humans have pretty much abandoned technology because they've discovered this cool spice that makes their brains superwired. The main character, which, presumably, Chalamet would play, is the son of the noble family who controls the planet where all the spice is harvested and who goes on to challenge the emperor for control of the galaxy. It is important to note that giant worms are also heavily important to the plot. (No, it's not that one you're thinking about. That was Tremors.)
The novel was a massive hit amongst the sci-fi set. Bodies in our own universe are named after fictional ones in the book, and the tome even lent some inspiration to Star Wars. Naturally, there was a lot of hope in Hollywood almost immediately that it could be turned into a movie. The problem is that many realized that the densely symbolic film might be quite difficult to translate to the big screen. For decades, screenwriters and directors came and went without actually getting the job done. Eventually, none other than David Lynch agreed to write and direct a movie based on the book, despite the fact that he hadn't actually read it at that point. He probably should have.
The resulting 1984 film was a massive critical and commercial failure, and has found little redemption over time. In fact, many people today find the depiction of the film's main villain grossly homophobic. A misunderstood-for-its-time classic, it was not.
Of course, Hollywood will leave no potential remake stone unturned, and the possibility of another attempt to film Dune for the big screen was first raised in 2008. Like the original, it went through several attached directors until Denis Villeneuve signed on in 2016. Villeneuve is of course one of the most heralded sci-fi filmmakers in Hollywood at the moment. His Arrival was an Oscar-nominated darling, and while it didn't live up to box office expectations, his Blade Runner 2049 remains a critic's favorite. If any filmmaker working today has what it takes to tackle the project, it's likely Villeneuve.
Still, it's a risky property for a rising star to hitch his future too. At the same time, critics would likely view it as a noble pursuit and it certainly wouldn't hurt his standings in prestige circles. If it's a failure, he can go back to making arthouse cinema unscathed. It's not exactly as if he's willing to risk it all on some cynical cash grab like, say, starring in a remake of Tremors.