Timothée Chalamet, Hailey Bieber, Bella Hadid and Beyoncé Have All Been Spotted in Vacation Hot Spots
Even as potential travel restrictions loom, Timothée Chalamet, Hailey Bieber and Bella Hadid have been spotted abroad.
---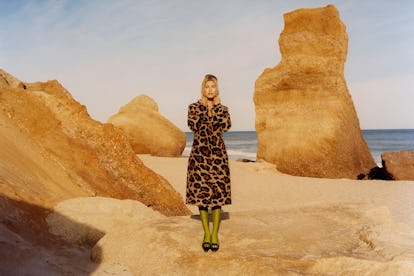 Photograph by Colin Dodgson; Styled by Sara Moonves.
Even though Europe might be about to ban U.S. travelers because of our government's bungled non-response to the coronavirus pandemic, some American celebrities seem to be embracing summer vacation while they can, crossing borders and hopping on jets as if it were the comparatively simpler days of 2019.
On Tuesday, Hailey Bieber and Bella Hadid (who had been in quarantine in Los Angeles and rural Pennsylvania, respectively) were spotted boarding a yacht off the coast of Sardinia, donning face masks with their Princess Diana-inspired bike short ensembles before changing into bikinis to cruise around the Mediterranean island. A source told E! News that the pair were enjoying some downtime in Italy before a photo shoot for fellow model Candice Swanepoel's swimwear brand, for which all crewmembers have been tested for COVID-19 and are taking all recommended precautions.
Meanwhile, in Cabo San Lucas, Mexico, Timothée Chalamet (who participated in Black Lives Matter protests in Los Angeles earlier this month) was photographed with apparent new flame Eiza González. Paparazzi caught the pair getting cozy by a pool while Chalamet strummed a guitar—the picture of laid back summer love.
On the domestic travel front, Beyoncé and Rihanna both headed to the Hamptons, the former presumably to her family's home on Georgica Pond, and the latter to a secluded rental in North Sea. The Kardashian-West-Jenner-Scott-Disick clan, meanwhile, are camped out on the family compound in Wyoming, cosplaying as cowboys with souped-up pickup trucks and all-denim outfits.
https://www.instagram.com/p/CBj2bVipsOl/?utm_source=ig_web_copy_link
While most of this movement is presumably taking place on relatively social-distancing-friendly private jets, it's reflective of a new grey area of quarantine etiquette. Back in March, even though travel was never explicitly banned anywhere in the U.S., any public figure who dared to get in a car and drive a few hours away from their primary residence was excoriated out of concern that they might be spreading the virus to otherwise unaffected regions.
Now, as COVID-19 cases are widespread—increasing in some states while leveling out or falling in others—people in general seem to be warming up to the idea of moving around a little bit more freely, even if it's jarring to see poolside bikini pics alongside news of continued protests and spikes in hospitalizations. But until any rumored travel restrictions are made official, no one can stop them. Let's just hope everyone is staying safe.
Related: Ariana Grande Sent Food and Coffee to Kentucky Voters on Primary Day