Timothée Chalamet Has a Message For Georgia, The Peach State
It involves the emoji officially known as "sweat droplets."
---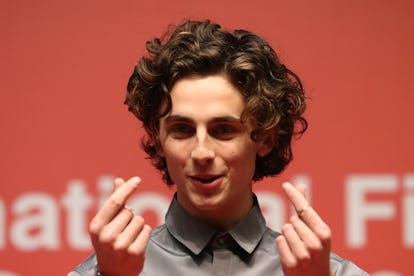 While we all patiently await confirmation of the biggest news of the year, virtually all other news has fallen silent. The 24/7 news cycle has temporarily flattened out as we all wait for some people in some rooms to do some counting. Admittedly, this can be difficult to navigate for an outlet whose main journalistic mandate is the coverage of things like fashion, society, and, well, Timothée Chalamet.
Finally, though, Chalamet has addressed the election results in a way we're sure he couldn't help. You see, Georgia is currently on the verge of going blue. The state is famously known as the Peach State.
Yeah, you know exactly where this is going.
The Twitter account @2besolonely posted an image of Call Me Be Your Name's infamous peach scene with the words "If Georgia goes blue…".
The viral meme made its way to Chalamet where he posted it with one single addendum: 💦.
Chalamet has long openly worried about having to deal with being identified with cinema's single raciest scene involving the fuzzy fruit. He's imagined a future in which he has to sit at fan conventions signing people's peaches. Yet, we imagine that sometimes the joke is just too good to pass up.
More seriously though, as of this writing, Joe Biden is currently up by less than 2,000 votes in the Peach State. It's a margin too slim to safely call, though momentum has certainly been in Biden's favor as the count continues. It would also be the first time Georgia has voted for a Democrat since Southern boy Bill Clinton ran in the 1992 Presidential election. He only won it by a slim 0.59 percent (and even he wasn't able to win it again in 1996). The emergence of Georgia as a new swing state is thanks to demographic shifts and trends, but also, in no small part, to Stacey Abrams' organizational effort in the state as well.
As of press time, no cast member of Parasite has used that film's own infamous peach scene to comment on the election.
Related: Timothée Chalamet Is Worried He'll Never Outlive That Peach Scene