Timothée Chalamet Played Harry Styles in His SNL Debut
For once, we didn't have to chose between them.
---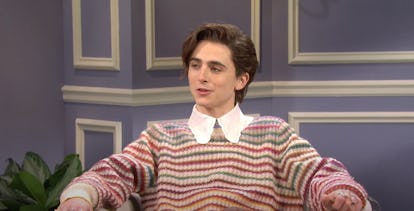 Saturday Night Live tore certain corners of the Internet apart last night by simply having Timothée Chalamet impersonate Harry Styles in his hosting debut. For a brief moment, we didn't have to choose between which fancy young lad with great style sense was our favorite, as they were one.
The impression came early in the episode in a sketch called the "Dionne Warwick Talk Show." Ego Nwodim played the newly minted queen of Twitter as she interviewed a parade of young Internet sensation-grade celebrities, for whom she clearly had no reference point.
Timmée appeared in character as Hazza in a costume that captured the singer's love of colorful knits, wildly proportioned trousers, and a fist full of fancy rings. "I'm a singer, sort of an essential fashion man, and you could say I, uh, do it for everyone," said Chalamet, in character, with a wink and grin.
Chalamet's Styles only stayed for a moment, but the sketch had more Chalamet in store. After Melissa Villaseñor appeared as Billie Eilish (who Warwick insisted on calling both "William Eyelash" and "Kesha"), cast member Chloe Fineman came onstage with her own Chalamet impression, nervous energy and all. Then Pete Davidson briefly showed up as Machine Gun Kelly, but Warwick had little time for that.
Chalamet's first go-around as SNL host was mostly regarded as a success. Aside from portraying the former One Directioner, Chalamet also had turns as a rebellious young coronavirus, the owner of a tiny horse, and an unfortunate baking show contestant.
In a development that will surely tear apart still other corners of the Internet, Chalamet seemed to find easy comedy chemistry with his fellow NYC native Pete Davidson, appearing in both his monologue and two sketches as a two-for-one package. That included Chalamet and Davidson as a pair of Fall Out Boy-influenced SoundCloud rappers.
Related: Timothée Chalamet and Harry Styles Interview Each Other, Keep Some Details Private