Timothy Olyphant Has Some Serious Respect for Drew Barrymore's Stomach
The actor shares his culture diet just in time for the premiere of his new Netflix series Santa Clarita Diet, co-starring Drew Barrymore.
---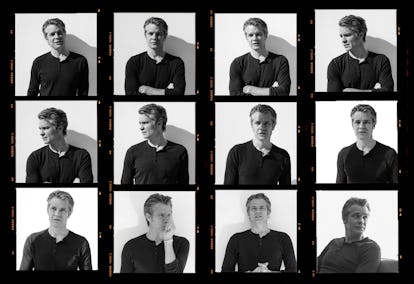 "You know, my wife is eating people, so it's putting a bit of a strain on the relationship," said Timothy Olyphant of his new role as the husband to a flesh-eating Drew Barrymore in the new Netflix series Santa Clarita Diet. It's one that's taught the actor not just the differences between onscreen fluids like artificial blood to vomit he's pretty sure actually contains pea soup, but the joy of working with Barrymore—whose tolerance for such gags is really very admirable. The show premiered this week, so Olyphant had some time to share his culture diet, featuring everything from 19th-century Nabis painters to the Muppets.
First thing you read in the morning: The New York Times. We still get the paper at the house; we bring it in and there's like a little light that shines around it. If you listen, you can actually hear the sound of angels when we put it down.
Books on your bedside table right now: I'm reading The Best American Short Stories from 2013, so as you can see I'm a little behind. Before that, I just finished this amazing novel, The Heavenly Table, by Donald Ray Pollock. That book's good.
The TV shows keeping you up at night: They really don't; I don't watch too much TV. But the Australian Open kept me up at night. That time change was really f—ing terrible, but it was Roger Federer, so I stayed up.
Last movie you saw in theaters: I saw Manchester by the Sea, which I thought was amazing. I don't remember weeping or anything in the theater, but it's a lump-in-your-throat experience from beginning to end, and it stays with you for days. I am and have always been a huge Kenny Lonergan fan, and one of the great pleasures of my professional career was being in his play [Hold On to Me Darling] last year at the Atlantic Theater. I'm proud to say I've worked with him and he's a friend of mine, and I find his work to be moving and awe-inspiring. He has this ability to take a scene you feel like you've seen before, you know what it is, and it's about to be over, and then it continues and continues further than you could ever have imagined it, and by the end you just can't believe it happened.
Last thing you saw at the theater: I was lucky enough to escape from rehearsals last year when I was out here in New York and see Couple. I also saw Hamilton. Amazing.
Last piece of art you bought, or ogled: It's good news, bad news: I fall in love with art a lot, and on occasion purchase it, which is a very bad habit in some respects and also wonderful. I tend to get to a museum or a gallery a couple times a month. This job has allowed me to travel around a bit, so I was just in Berlin and then I was at the Musée d'Orsay [in Paris] the other day. Obviously I'd seen Van Gogh, so that was exciting, but I saw all these [Édouard] Vuillard paintings, and I never really knew about him. I don't know how I missed him, but boy, he's fantastic. I was an art student in college, and I keep thinking if I could just get this acting career really off the ground, then I could quit and go back to doing ceramics for the rest of my life. [Laughs.] That's the real career goal: How can I make pencil drawing a second career?
Last museum exhibition that you loved: I saw a Rodney McMillian show in L.A. I love his work; I find it to be outstanding. And almost every show I go and see at the Hammer Museum is fantastic.
Release you're most eagerly anticipating: Yesterday I bought a few books that I think are new, off the Bill Gates "best of" list. Bill Gates is apparently living in a universe where there's more hours in the day than for anyone else, because he reads something like 40, 50 books a year. And he blogs. So every year he makes a list of his five favorite books that he read and I went and grabbed three that I'm looking forward to. One's about tennis, David Foster Wallace's collection called String Theory. Then there's a book called Shoe Dog about Phil Knight, who I'm a huge fan of, because he started Nike and then he started Laika, the animation studio that makes stop motion films like ParaNorman and Coraline. And his kid directed Kubo and the Two Strings, which got an Oscar nomination, so there's no way that guy's an asshole. Most billionaires are assholes, but this guy seems like a gem, so I'm looking forward to reading his book.
Last song you had on repeat: I never really have a song on repeat, but I can tell you the last few things in my "Recently Added": Big Audio Dynamite, Beastie Boys, and then we take a strong left turn and get to Sarah Vaughan. Then someone who's on the playlist a lot: Elvis Costello and the Attractions. And have you heard Jack White and the band in the Muppets, the Electric Mayhem? They did a fantastic cover of Stevie Wonder's "You Are the Sunshine of My Life." I don't know why or when that happened, but there you go.
Last concert you saw live: I saw Green Day in L.A., somewhere in Hollywood. Those guys know how to have a good time.
How you get your news: The paper in the morning, and then once or twice a day I'll check three or four publications on my phone.
Favorite social media accounts to follow: I don't have social media. I still don't understand the appeal. But I'm aware that there a lot of artists that have interesting accounts on Instagram, and I think it's really pretty great that they have this dialogue going on with people like Jerry Saltz. They're essentially sharing their work and to some degree their process, and I find that to be a really cool use of that app. If I had content like that to share I think it'd be cool to be part of that conversation, but people in my line of work more or less act almost like every day is a calendar shoot, and I don't quite get that desire to share those pedestrian experiences with the world. But god bless 'em—whatever helps you sleep at night.
Last thing you do before you go to bed: I'm going to answer that question with a question: Are the kids asleep? [Laughs.] You know, I probably could use one, but there's no real routine there. It just depends.
See W's most popular videos: