Tina Fey and Sara Bareilles Are Making a '90s Girl Group Comedy
Spice Girls meets "The Comeback"? We do want to see that.
---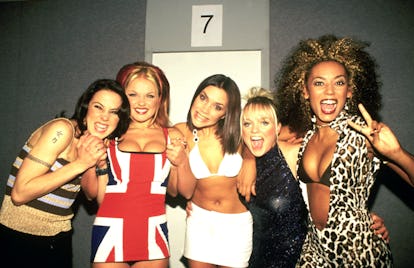 Photoshot
There's the established canon of '90s girls groups: TLC, The Spice Girls, and Destiny's Child, for starters. Then there are the less-hyped-but-still-iconic few: 3LW, SWV, All Saints, if you're an anglophile. Then there are those groups that you really have to search the corners of your brain to recall, if you can at all: Dream, Play, 3rd Party, Wild Orchid, B*witched, Total, West End Girls, Girl Thing, Girlfriend…
Whatever happened to them? Well, producer Tina Fey, creator Meredith Scardino, and newly announced star Sara Bareilles are here to answer that question. Fictionally, at least, with the upcoming sitcom Girls5Eva.
According to Deadline, the series will premiere on NBC Universal's new streaming service Peacock. Bareilles will star as Dawn, a former member of forgotten girl group Girls5Eva who now finds herself working as the manager of her family's Italian restaurant in Queens. When the band's one hit gets sampled by a rapper, the group decides to reform and chase fame once again. An early announcement about the project stressed that, indeed, all five main characters were, at point or another, engaged to Carson Daly.
"It is a pinch-me moment to get to cross paths creatively with women like Meredith Scardino and Tina Fey, who I have been a fan of forever," said Bareilles in a statement. "I am a longtime admirer of so many of the characters they have brought to life in other projects, and I am already in love with the women at the center of Girls5eva. I am so excited to help bring to life what I know will be a smart, creative, hilarious show with a lot of heart."
No word on whether Bareilles—who, in addition to having her own recording career, wrote the lyrics and music for Broadway sensation Waitress—will have any input behind the scenes as well.
The career-comeback genre of comedic satire certainly has some notable precedents. Lisa Kudrow's The Comeback comes to mind, while Jenifer Lewis's cult mockumentary Jackie's Back offers a musical example. But the actual stories of failed girl groups might offer more inspiration. The band 3rd Party recorded "Waiting For Tonight," years before Jennifer Lopez covered it and made it a hit. Meanwhile, RuPaul's Drag Race judge Michelle Visage's hit it (temporarily) big with the group Seduction, then worked as a host for strip club oil wrestling nights after Seduction disbanded—before reestablishing herself as a radio and television host. There's a wealth of material for potential storylines.
Related: Billie Eilish Didn't Believe the Spice Girls Were Real Until 2017