Tina Knowles-Lawson Was Told Destiny's Child's Outfits Were "Too Black"
Destiny's Child's record label insisted their crossover appeal would be limited if they didn't dress like Britney Spears and Christina Aguilera.
---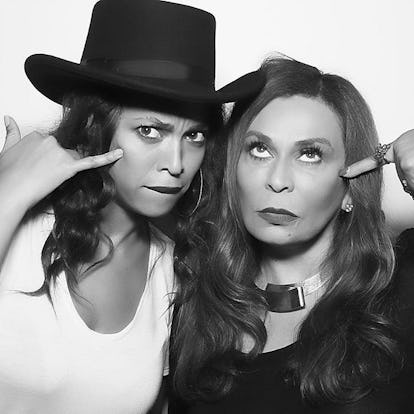 As the matriarch of Destiny's Child, Tina Knowles-Lawson can be given a lot of credit for the group's ahead-of-their time aesthetic. As the group's stylist, she also designed many of the band's signature looks. The musicians were often seen in music videos and on stage coordinating their looks with sequins, denim, and camouflage—the latter of which Knowles-Lawson once revealed was a nod to New Orleans rapper Master P.
Her overarching blueprint for Destiny's Child's style, though, was Motown. The Marvelettes, The Supremes, Labelle, and many other girl groups in the '60s and '70s distinguished themselves by showing up on stage in their boldest, flashiest, coordinated looks—and Ms. Tina wanted Destiny's Child to stand out in a similar way.
During a recorded video conversation with Beverly Johnson for The Washington Post, Knowles-Lawson detailed her inspiration for designing looks for Destiny's Child. "We were big Motown fans, my ex-husband and I both. The girls looked at tapes of Motown and that's where we got our inspiration," she said. "The costumes that they wore in those days, when you were sitting on the 30th row, you could see because there was a sparkle, there was a dazzle, they looked like stars. So that was the concept for Destiny's Child."
In the interview, Knowles-Lawson also talked about some of the challenges she faced as a stylist for Destiny's Child in the late '90s and early '00s. "The label, after the girls started getting a lot of recognition, they had a meeting with my husband and they told him that basically I was the problem and I was going to be the reason why the girls would be limited in their crossover appeal, because they were just a little too flashy, a little too Motown, but what they really meant was that they were a little too Black," she revealed.
"As an African-American, I know, I've always known, that our fashion, our vibe, our style, our swag, has influenced the fashion world greatly," she said. "I remember I used to design things and I would get criticized for it, but they next thing I know it would be on somebody's runway."
"I was told that they should look like Britney Spears and Christina Aguilera," she went on. "At the time they were big pop stars, and in order for the girls to cross over, they said they needed to wear jeans and t-shirts. I took offense to it because I felt like the girls, in their splendor, were different, they were unique, they were unapologetically Black."
She also made sure to mention that, while disappointed in the label's insistence that the girls tone down their Blackness, they were "happy and excited" to be wearing creations designed by Ms. Tina. "They were excited at what the culture brought to the industry," she said. "It needed some flavor, and they brought that flavor."
"We stuck to our guns and it paid off, because then people started loving the outfits and waiting to see what they had on," she said. "But I took a lot of heat for them being different and unique and for pulling from Black culture."
Recently, as a result of Beyoncé wearing a moon printed Marine Serre jumpsuit in her Disney+ film Black Is King, searches for the signature logo have increased 426%. So at the end of the day, Ms. Tina can have the last laugh anyway, because everybody knows some designers would fight to the death to have their clothes worn by her daughter.
Related: Let Ms. Tina Knowles-Lawson Creative Direct the Ivy Park Campaign