No One Is More Impatient For Tinashe's Joyride Than Tinashe
We've waited three long years to hear the singer's sophomore album. Just imagine how it's felt for her.
---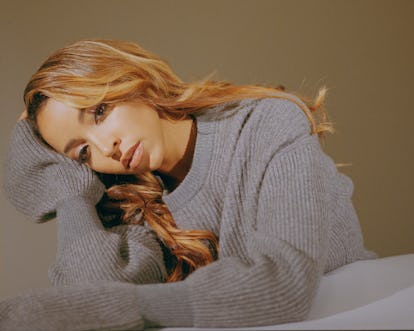 In a different world, Tinashe is already huge. Not in the way she is now—with co-signs from Dev Hynes, Nicki Minaj, and Future, with a quarter billion streams on her top single, 2014's "2 On," with a still-warm seat in the front row at Opening Ceremony, at Alexander Wang, at Jeremy Scott—but huge like Janet, to whom she performed a tribute, with Jason Derulo and Ciara, at the 2015 BET Awards. Huge like Britney, with whom she made 2016's "Slumber Party," and with whom she shared the stage at Spears's Vegas residency. Huge like she wants to be. When I asked her on a recent afternoon in New York whose career she would most like to emulate, she replied, after a brief pause: a combination of Beyoncé and Will Smith (she is, after all, an actor, too—see her return to the screen, as herself, in Empire last summer).
Four years ago, with the release of her debut album, Aquarius, Tinashe was poised to be that kind of huge. She had a string of chart successes—"2 On," "Pretend" with A$AP Rocky," and "All Hands on Deck," which was remixed with a verse by Iggy Azalea—and, the next year, she began touting a follow-up, titled Joyride and scheduled for a 2016 release.
"That was a mistake," she said, taking a swig of her mimosa. Gray sheets of rain fell outside the Mexican café we sat in Chelsea with her cousin and assistant, Nakisa Kachingwe, and her publicist. Joyride never materialized in 2016, but on this afternoon Tinashe wore a nameplate necklace, a recent gift from her product manager, that read "Joyride" in fluid script. "Party Favors," a cut off her kind-of-a-mixtape, kind-of-not Nightride, crept through the stereo; several waiters, she explained, had already stopped by to profess their admiration. Tinashe released Nightride in 2016 in lieu of Joyride while its companion piece stagnated—and it's only now, three years later, that Joyride is finally being released, this April. It's Tinashe's moment—again—and this time, the world may have finally caught up with her.
On Monday, Tinashe released a new single, "Faded Love," which finds her reuniting with Future (he appeared on Aquarius's "How Many Times," and they hit it off); last month, she released the album's lead single "No Drama," a simmering, trap-inspired song recorded with Offset, of Migos. (Despite the feature, she does not yet hang out with Cardi B. "I wish," she said.) In the video for "No Drama," Tinashe—an accomplished dancer who trained in ballet and jazz from an early age—emerges from the shadows and into the glaring light of the track's first verse. Fitting, then, that "No Drama" functioned as her opening statement for Joyride: "It feels urgent," she said. "I'm still in it, I'm still making music, I'm still grinding," she continues. "I'm here."
She annotated the track's lyrics for Genius last month, writing, "People are always trying to fit me into a particular box." That, perhaps, has been the biggest obstacle to what should have been her meteoric rise to the top: "I can't just fit into this safe category, whether they be labels as far as genre, race labels, sexual orientation labels, any kind of labels," she said. "I think, sometimes, people interpret the fact that they struggle to put me in a box as maybe not focused or lack of direction."
But the mainstream explosion of streaming services like Spotify has blown up the industry's presets since she first emerged. There's a vertical dance video that accompanies "Faded Love," an experiment in content meant to be consumed on an iPhone. Tinashe has been optimized.
Back in 2015, Tinashe was proceeding at full-tilt, anticipating a quick follow-up to her debut. "Growing up, I always had such an indestructible faith that everything was going to be fine. Everything was going to work out. It was going to be easy. I was going to do this, I was going to get signed," she recalled. "As I got older, I realized it wasn't as easy as maybe I had initially thought."
She has been candid about the reasons for the delay, much of it attributed to "creative differences" with her label. There was the Chris Brown feature that wasn't really her idea; she leaked the track—"Party Favors," in fact—out of frustration with the constant delays; there was also the feeling that RCA was too consumed with launching the solo career of Zayn Malik to give her the support she needed. The sheer volume of music she was creating—enough for two sonically discrete records, the dark, vibed-out Nightride and its jubilant companion Joyride—defied a straightforward release cycle.
Despite this, she is adamant RCA has her back now, and, if you listen to the music she continues to put on, it's obvious Tinashe has not had to compromise artistically. "When I was saying those things, it was obviously out of frustration," she said. "There's definitely been creative differences between me and my label, 100 percent, but I had to say, I don't think they've ever not been behind me."
In one way, Joyride is long overdue, but in another, it's a different record from the one she planned to put out circa 2015. "This is the best incarnation of the project yet," she assured me. Then, producer credits on the record included Dr. Luke; given that Tinashe has vocally supported Kesha since then, I told her I assumed that's no longer a thing. "Nope, no," she said, matter-of-fact.
She observed that the #MeToo movement has not yet come for music in the way that it has swept through Hollywood, perhaps because the music industry continues to stoke competition among women artists for just a few positions of prominence. (After all, just one woman artist, Lorde, was nominated for Album of the Year at the Grammys.) "It's not like there are more creative men out here than women," she said. In addition to guests like Future, Offset, French Montana, and Ty Dolla $ign, Joyride also features a yet-unnamed female vocalist: "It's a surprise," she said, noting how rare it is to see two women artists on the same track.
In the end, for Tinashe it was always Joyride or bust. "I've always been the type of person who has no plan B," she said. "So it has to work."