Act Four
Social butterfly, fashion designer, and short-lived reality-TV star Tinsley Mortimer is now…a novelist? Rob Haskell reads her.
---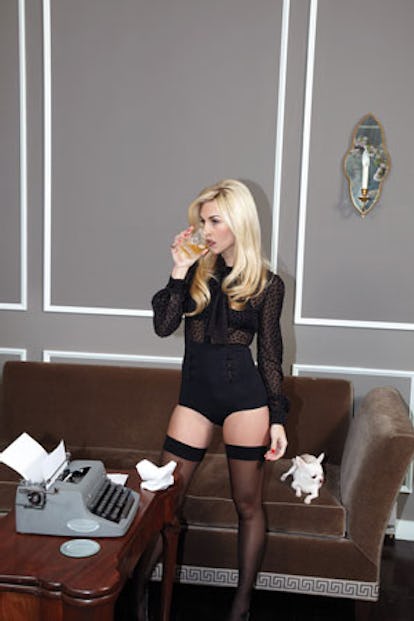 The saying goes in real estate that the worst house on the best street makes a wiser investment than the best house on the worst street. It's a lesson Tinsley Mortimer—a Virginia property developer's daughter before she became a New York social star, fashion ambassador, and finally, a parody of herself on eight wrenching episodes of her own reality-TV show, High Society—may have learned the hard way.
"The show seemed like this huge opportunity," Mortimer explains on a recent evening in a restaurant near Manhattan's Plaza hotel. "Yes, it didn't turn out the way I wanted. They surrounded me with people who weren't my friends. I wasn't the one throwing the drinks, but all of a sudden, the life I'd worked to achieve, the image that was me, was erased by the camera. And what replaced it kind of became my life for a while." She raises her wineglass as if for a toast: "But you get back up. You try again."
And so she has. Mortimer, who under the piles of baby-doll dresses has a Columbia University diploma stashed somewhere, has written a novel. Southern Charm (Simon & Schuster) explores those little disruptions in the crystalline structure of an It girl's life. "It will certainly be a guessing game," Mortimer says. "People will be, like, 'My God, that's me.' " The veil of fiction is as thin as the skin of the bubble that burst several years ago when Mortimer, now 35, made her downward drift from East 79th Street to West 35th, from the pages of WWD to those of Us Weekly—all observed with the schadenfreude society-gazers save for their fallen idols.
The book chronicles the ascent of a Charleston, South Carolina, debutante named Minty Davenport, on whose golden head the socialite's crown—tarnished by a cheating husband, plotting rivals, and, to be sure, a few bad choices of her own—begins to weigh heavily. Beneath the gold-dusted surface of Southern Charm, Mortimer hints at the struggle she has waged over whether to abide by New York's lingua franca of behavior and etiquette.
"In the North, there are rules, like you're only supposed to be in the paper three times—birth, marriage, and death," Mortimer says. "In the South, there's more freedom to let loose." She concedes that in ending her marriage to banker Topper Mortimer, a New Yorker born and bred, she has lost friends who chose to honor alliances stretching back to the Buckley School and beyond. As for the girls with whom she used to share the flashbulb, well, those relationships languished when the carriage reverted to a pumpkin. "I'm not saying I'm not good friends with them," Mortimer says. "There's no weird tension. I just don't see them as much. But it wasn't until I wrote this book that I realized I wouldn't be this New York girl if it weren't for the fact that I wasn't a New York girl—I was a Southern girl."
Mortimer is right. Whatever its shifts and shake-ups, Manhattan society embraces mainly two types of women: those who occupy much the same place in the firmament that their grandmothers did, and those who offer the transient fascination, and sometimes the vicarious thrill, of the new and the forbidden. With those Mattel features and a genius for delivering the perfect photo, Mortimer was the latter.
"I've always admitted that I like being in front of the camera," she says. "If I knew I was going to be photographed, I wore more color, I fixed up more, I curled my hair. I felt confident and pretty. I put my hand on my hip to make myself look thinner. Sorry."
For a few years, it worked. While her husband hunkered down at uptown bars, Mortimer became the most photographed girl in New York. She was a star in Japan, too, with her clothing and handbag designs and giant billboards. Dior named a lip gloss after her: Tinsley Pink. A motley array of endorsements turned into a career.
"I don't know why people find the idea of making money vulgar," Mortimer says. "They use the word 'ambitious' like it's a bad thing. I completely support myself. There was only furniture involved in my separation from Topper. Everything else I have is all me."
After the split and the disgrace of the reality show, Mortimer pulled back, spending more nights in bed watching cartoons with her Chihuahuas. She insists that she has felt neither slighted nor embarrassed. She is not likely to breathe the peony-scented air of Fifth Avenue's drawing rooms anytime soon, but then again, Mortimer was never exactly nipping at Jayne Wrightsman's heels. Her goal, she makes clear, is to build a brand. And to that end, she is trotting out the party dresses—though the most coveted runway samples will go to other girls. For Mortimer, that ship has sailed. But who says it won't return to port?
"The Upper East Side is definitely where I know I'll be again," Mortimer says. "But if I could do things over, I wouldn't change anything. For me, it's all about leveraging, taking chances. I've never been fearful. And I'm not hurting anybody, so what's the harm?"
Hair by Julien Farel; makeup by Reiva Cruze; photography assistant: Gokay Aarioz