'Tis the Season to Be Furious: How to Deal with Holiday-Related Stress and 2016's Final Headaches
A turbulent year before the election, 2016 seems to be ending on an even rougher note and emotions are flaring across the land. Here, a guide to self-care your way into 2017.
---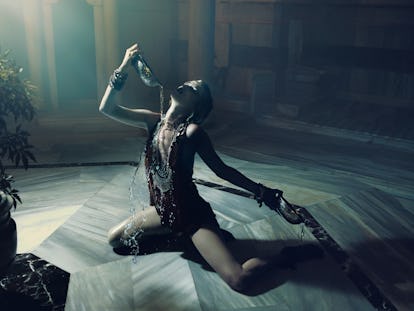 Just a few days into the unofficial start of the holiday season, I found myself standing on a sidewalk flipping off a well-dressed fortysomething man on the crosstown bus.
What crime had this person committed to warrant such a crude response? On a crowded bus, he had ignored my multiple polite declarations of "Excuse me, please, getting off" and then blocked my path from the bus. Rude, annoying and inconsiderate? Sure. But I was shocked by the level of anger I felt at such a mundane—and common if you live in New York—occurrence. I was confused by and ashamed of my behavior; I am not someone who regularly flips off random strangers (or close acquaintances), nor am I prone to angry public outbursts based on the slightest of provocations. In short, what was wrong with me?!
If November was for many, a month of deep sadness and depression, it seems the holidays are gearing up to be an inflammatory period of rage. Beyond the election, 2016 was a pretty tough year to stomach, from rampant, global violence down to the very last days of the year to economic woes across the world. Compound this baggage with the crowds and stress that attend December-based joy and well, 'tis the season to be furious.
Refusing to let this be my M.O. for the next month—and four years—I decided to dive into an emotional and wellness overhaul.
I should preface this by saying that I'm a skeptical person when it comes to anything carrying even a whiff of spiritual frou-frou. I don't "Om." When I hear the word "crystals," I think of Swarovski. And I've generally operated under the belief that bookending my day with a hard workout and a well-shaken cocktail will take care of my body and mind. But clearly, this system wasn't hacking it, so I reached out to Carolyn Harrington, a holistic health practitioner who provides "energy evaluations" over the phone with the goal of helping people learn to self-care.
I sent her two pieces of information, my full name and a digital photo, which act as what is called a "witness," an artifact that carries my energy and allows Harrington to conduct her sessions remotely. The basis for her evaluations is that she taps into the energy coursing through people (or the imprint they leave on their witness) using hundreds of vials—many of them Bach flower ones based on a homeopathic remedy stemming from an early 20th century British doctor—that correspond to different anatomical and emotional energy signatures of the body.
Sound heady? There's more. As the vials accumulate, they create a narrative about the person whose energy they relate to. And as with any story, there are layers, and Harrington, who has been practicing for 17 years, begins by focusing on the primary and secondary strata.
"For you, your blood is coming up. It has a weakness right now and there's bacteria overgrowth there. What comes up is a Bach flower called rescue remedy. And that flower is for people who have had a terror. Something really frightened you or was very shocking to you and it threw your blood off and now because of that, it allowed this bacteria to propagate," Harrington declared, adding that she also picked up on a plum sensitivity.
A terror? That created bacteria in my blood? Oh god. A secondary element of the reading suggested I had malignant cells in my blood that were accumulating. Cue heart palpitations.
"Again it's only energetically!" she reassured me. "It's to do with an emotion. This one is [the] white chestnut [Bach flower]. This Bach flower is indicated for excessive worrying thoughts that seem impossible to approach."
Not to worry, Harrington said. She would concoct a personal energy remedy of Bach flowers to cancel out these negative frequencies that I could either imbibe, or whose energy I could tap into, alleviating the situation. As she put it, "all disease starts from an emotional state," which even for the most skeptical is worth considering: it never hurts to take care of your mind and emotions in the name of calming your body (one word: Cortisol).
While I waited for my personal remedy to arrive, I figured there was no better time for me to embark on a meditation practice. Intrigued by the television campaign and posters plastering subway stops, toting the benefits of the meditation app Headspace, I downloaded it. The digital guided meditation process begins with a "Ten minutes a day for ten days" free trial before people can choose to upgrade to a paid, more customized subscription.
As one of those people who constantly finds themselves holding their breath throughout the day—I'm convinced part of why I love running is because it forces me to breathe freely—I was nervous about sitting still for ten minutes, focusing on just that. But with the soothing voice of Headspace.com co-founder Andy Puddicombe, a British former Buddhist monk, in my ears, I managed my first session easily while sitting on the carpet beneath my desk. The no-frills approach appealed to me, as did Puddicombe's simple, easy-to-follow cues.
"Part of demystifying the practice is to normalize it, to make it part of everyday life, part of popular culture," explained Puddicombe of Headspace's raison d'etre, often summed up as being a kind of gym membership for the mind. "In meditation, we are not trying to forcibly change the breath in any way, but rather become conscious of it, to witness and observe those changes. When we do this, the breath begins to regulate itself, quite effortlessly. The result is that both the body and mind begin to unwind."
As I tried to get back on track with my deep breathing, I also figured it couldn't hurt to physically rid myself of some of my emotional baggage. And so I turned to HigherDOSE, an infrared sauna spa founded by Katie Kaps, a start-up executive and entrepreneur, and nutritionist Lauren Berlingeri, who discovered the wonders of infrared saunas—which use infrared light rays to heat the body instead of the convection heat in traditional saunas—while working for a wellness startup. Sold on its "life-changing" impact, she partnered with Kaps to bring its benefits to the broader public.
And just what are those benefits? According to HigherDOSE, they range from the detoxification of heavy metals and radiation to increased dopamine, oxytocin, serotonin and endorphin levels (that would be the DOSE) and also significant caloric burn (not to mention a glowing complexion) and a reduction in cortisol. HigherDOSE's own saunas also incorporate LED light therapy that purportedly helps with relaxation and anti-aging.
"The infrared penetrates your body three inches deep, which activates water molecules below the surface and pushes out toxins that normally wouldn't get pushed out. So it speeds up your heart rate to the pace of a light jog, but what's also going on is your blood vessels dilate, which puts your body into parasympathetic mode," said Kaps. "That's the rest and digest state. Normally, as New Yorkers we're always in fight or flight sympathetic mode. So going into parasympathetic it allows your body to heal."
In other words: "They describe it as going back into the womb," added Berlingeri. "It's a very warm, nurturing feeling that's very gentle. Typical saunas are very aggressive on the body so the body goes into a state of protecting itself."
Much like Headspace, the thinking behind HigherDOSE is to incorporate infrared saunas into a lifestyle, unlike, say, a two-hour massage at a plush spa that you treat yourself to every few months. People book 30, 45 or 60 minute sessions and are encouraged to be in and out quickly to free the rooms up for others.
Berlingeri led me into a low-lit room furnished with a side table stocked with a carafe of alkaline water, a bench with a towel and a robe and of course, the infrared sauna, with the timer set to 30 minutes.
The temperature display read 50 degrees Celsius, or 122 degrees Fahrenheit). But when I got in, it felt much more tolerable than most saunas I've experienced. Instead of panting in dry air, I could breathe easily. And I didn't feel like I was experiencing heat stroke. Within minutes, the sweat was pouring out of me, and in the futuristic blue light, I looked like a gleaming avatar. How do I know this? Well, naturally, such flattering conditions necessitated a selfie. If a woman detoxes and there's no Instagram post to capture it, did it really happen?
I was surprised by how quickly the thirty minutes went by. And when I emerged, my head had a pleasant buzz to it, like a non-alcoholic high. I was so blissed out, I rode the subway home in rush hour sans reading material or music and felt completely happy. And the next evening at drinks a friend remarked, "You look like a fetus."
My skin may have been prenatal, but my emotions still needed some work. As a final stop, I checked out Tournesol Wellness, an integrative medical and holistic practice that among many more known services like acupuncture and yoga, offers Vibroacoustic Sound Therapy. Founded by Carey Davidson to provide an alternative, integrated approach to primary health care, Tournesol is one of the only locations on the East Coast to offer VAT, which is used to treat all manner of physical and psychological afflictions: chronic pain, PTSD, Parkinson's disease, insomnia and of course, standard stress. Operating on the principle that all of the body's cells have their own individual frequencies and healthy resonances and that they are capable of picking up and mimicking vibrations from another source, VAT sends vibrations via MP3s that are transduced through conductors embedded in a water bed to the cells affected by whatever bothers you.
"You'll feel gentle vibrations when you're on the table and your cells will start to copy the vibrations," explained Davidson, who said the majority of clients come to her to treat, in this order, emotional balance and stress, anxiety, insomnia and physical pain. "And then in turn, [the cells] take on that healthy resonance and no longer behave in the old, unhealthy way."
I climbed onto the water table fully clothed save for my shoes and Davidson began by running a standard deep relaxation mode, adjusting the level of the vibration to my preference (the actual force of the vibration doesn't affect the treatment's efficacy). She asked me some general questions about my stress and how it manifested and added in a pineal gland mode (the pineal gland is a tiny organ responsible for producing melatonin, regulating your sleep and also your daily circadian rhythms). And then, Davidson turned down the lights and held her hands over my body and asked me one seemingly non sequitur that floored me.
Remember when I said I am inherently skeptical? Well, suffice it to say, Davidson asked me a series of unprompted, personal things (and adjusted the vibration meridians accordingly) that essentially turned our time into a relaxation-cum-psychoanalysis-cum-spiritual probing session.
An hour later, I peeled myself off the table light-headed and lighter. "It's really good and it makes it easier to go out into the world and do the things you have to do," said Davidson.
Indeed, I headed to the subway in a state of calm euphoria. And, I kid you not, when I got onto a semi-crowded subway car, a man (not the same one) said to me as I went to grab the overhead bar, "That's my spot," like a kindergartener arguing over a space during recess. I blinked for a second in disbelief and then replied, "Excuse me," and headed to the other side of the car.
Kick Off the Holiday Season with the 2017 Best Makeup Trends, Straight from the Runway
"A clean face is be the perfect canvas for spring's statement earrings." —Sarah Zendejas, Fashion Market Editor

Celine Spring 2017. Photo by Getty.
"The makeup at Jason Wu was a clear crowd favorite. Nothing really beats a red lip and the team at Jason Wu delivered the look in such a simplistic way that really celebrated a woman natural skin tone." —Courtney Costello, Fashion Assistant

Jason Wu Spring 2017. Photo by Getty.
"I love the no-makeup, beachy beauty look at Alexander Wang. I've always fantasized about bleaching my hair. It probably won't happen, but a girl can dream." —Samantha Andriano, Social Media Manager

Alexander Wang Spring 2017. Photo by Getty.
"I want a Klein blue metallic lipstick ready in my bag in case I need to make a casual outfit into something more interesting." —Alyssa Pena, Jewelry Coordinator

Gucci Resort 2017. Photo by Getty.
"I can't make it through the winter without dressing my eyes in a smoked out autumnal burgundy." —Minha Khan, Associate Photo Editor

Anna Sui Spring 2017. Photo by Getty.
"I love the no makeup look! The models had clear, glowing, virtually makeup–free skin." —Gillian Sagansky, Contributing Writer

Gucci Spring 2017. Photo by Getty.
"I can't wait to experiment with colorful eyeshadow in the spring. I'm thinking pink and yellow — the two colors of the season." —Emilia Petrarca, Associate Features Editor

Maison Margiela Spring 2017. Photo by Getty.
"The subtle eye makeup and rosy cheeks made models from 17 to 73 look polished and pretty. Now, if only I could age like Lauren Hutton." —Mia Adorante, Associate Beauty Editor

Bottega Spring 2017. Photo by Getty.
"The messily parted wavy hair, flushed cheeks, bold brows, and dewy skin is just what I'm aiming for this season." —Sarah Leon, Digital Editorial Director

Jacquemus Spring 2017. Photo by Getty.
"I adore the fresh face and bold red lip at Cushnie et Ochs." —Kristin Auble, Research Editor

Cushnie et Ochs Spring 2017. Photo by Getty.
Gigi Hadid Dramatically Reads "Popular"