Todd Snyder Closes Out the Second New York Fashion Week: Men's
Here, a recap of all the highs and lows.
---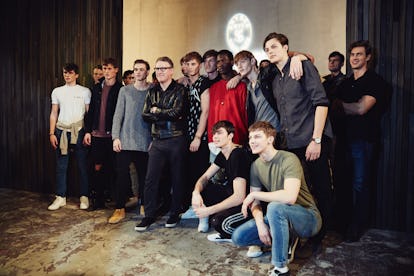 The irony of Todd Snyder's Fall 2016 show at New York Fashion Week: Men's being sponsored by Timex was that the crowd spent most of the time looking at their watches. It was the final day of four at Skylight Clarkson – a brief and manageable stint in comparison to the upcoming women's shows – but the guys were ready to go. Home, that is. Not even to the after parties, which were few and far between.
Model and actor Tyson Beckford, who sat front row next to Darren Criss (an ambassador at last season's shows, but he only made it to two this year) headed straight to the Polo Bar afterwards. Ralph Lauren ditched New York for Milan Fashion Week, so the restaurant was arguably the only taste of All-American high fashion available in the city this season.
One may have expected Calvin Klein's eveningwear presentation on Day 3 to full this luxury void, but alas, the center of attention was Southern model Mitchell Slaggert, who stood shirtless in very tight gold pants for everyone's Instagram needs.
The men of New York no longer have an interest in luxurious suits and ties, it seems, let alone shirts. They've left the pea-cocking to the Europeans. By definition luxury is nothing if it's available to everyone, and that was the antithesis of New York Fashion Week's goals this season. Dao-Yi Chow and Maxwell Osborne of Public School made this clear by showing their collection to fans first, Rio Uribe of Gypsy Sport catered his color scheme to multiple skin tones, and the Orley siblings showed cohesive his and hers looks. The shows were an all-ages affair as well, with three-year-olds and cool teens taking over front rows.
In this way, Todd Snyder's show was a perfect summation of the week: it offered something for every man, from sweatpants to red carpet-friendly velvet suits. Of course, there were numerous "long coats and shearling," too, which Luka Sabbat and co. were sick of by day three. If there's one thing New Yorkers know, it's what they want. And New York designers like Snyder gave it to them. But at the end of the day, good fashion is what you need. Great fashion is what you didn't even know you wanted.
NYFW Men's: Backstage at Todd Snyder Fall 2016
NYFW Men's: Backstage at Todd Snyder Fall 2016
NYFW Men's: Backstage at Todd Snyder Fall 2016
NYFW Men's: Backstage at Todd Snyder Fall 2016
NYFW Men's: Backstage at Todd Snyder Fall 2016
NYFW Men's: Backstage at Todd Snyder Fall 2016
NYFW Men's: Backstage at Todd Snyder Fall 2016
NYFW Men's: Backstage at Todd Snyder Fall 2016
NYFW Men's: Backstage at Todd Snyder Fall 2016
NYFW Men's: Backstage at Todd Snyder Fall 2016
NYFW Men's: Backstage at Todd Snyder Fall 2016
NYFW Men's: Backstage at Todd Snyder Fall 2016
NYFW Men's: Backstage at Todd Snyder Fall 2016
NYFW Men's: Backstage at Todd Snyder Fall 2016
NYFW Men's: Backstage at Todd Snyder Fall 2016
NYFW Men's: Backstage at Todd Snyder Fall 2016
NYFW Men's: Backstage at Todd Snyder Fall 2016
NYFW Men's: Backstage at Todd Snyder Fall 2016
NYFW Men's: Backstage at Todd Snyder Fall 2016
NYFW Men's: Backstage at Todd Snyder Fall 2016
NYFW Men's: Backstage at Todd Snyder Fall 2016
NYFW Men's: Backstage at Todd Snyder Fall 2016
NYFW Men's: Backstage at Todd Snyder Fall 2016
NYFW Men's: Backstage at Todd Snyder Fall 2016
NYFW Men's: Backstage at Todd Snyder Fall 2016
NYFW Men's: Backstage at Todd Snyder Fall 2016
NYFW Men's: Backstage at Todd Snyder Fall 2016
NYFW Men's: Backstage at Todd Snyder Fall 2016
NYFW Men's: Backstage at Todd Snyder Fall 2016
NYFW Men's: Backstage at Todd Snyder Fall 2016