Tom Brady, Surprising Comme des Garçons Fan, to Co-Chair Met Gala Honoring Rei Kawakubo
Brady, along with wife Gisele Bündchen, joins Katy Perry and Pharrell Williams on the hosting committee for "Rei Kawakubo/Comme des Garçons: Art of the In-Between."
---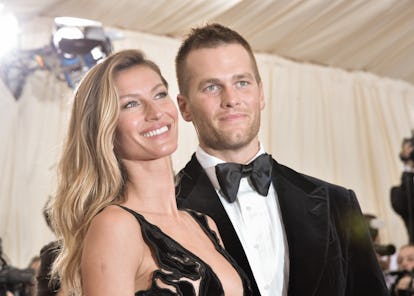 Andrew H. Walker
Karl Lagerfeld. Giorgio Armani. Marc Jacobs. Tom Brady?
It was revealed today that New England Patriots quarterback Brady, the winner of Super Bowl LI, along with supermodel wife Gisele Bündchen, are slated to co-chair this year's Costume Institute Gala at the Metropolitan Museum of Art, to be held on May 1 and named "Rei Kawakubo/Comme des Garçons: Art of the In-Between," in honor of the iconic Japanese designer. It is only the second time the Costume Institute has organized a retrospective of a living fashion designer, following Yves Saint Laurent in 1983.
With this appointment, Brady joins the ranks of top designers who have previously held the role, as well as this year's previously announced chairs, Katy Perry and Pharrell Williams. Former Ambassador to Japan Caroline Kennedy and Kawakubo herself will also serve as honorary chairs.
Brady made his Met Gala debut in 2008, attending that year's "Superheroes: Fashion and Fantasy" themed event with Bündchen, who wore a slinky pale pink Versace gown with side cut-outs for the occasion. Since, the couple have been a staple on the steps of the Met, though they skipped the past two years, making their most recent appearance at 2014's "Charles James: Beyond Fashion," for which Bündchen opted for a plunging black Balenciaga dress designed by Alexander Wang.
It will curious to see how Bündchen, a model bombshell who was more closely associated with high-end couture and va-va-voom ready-to-wear in her heyday than Kawakubo's challenging brand of fashion, will handle this year's theme.
But it will be far more interesting to see how Brady channels the designer's oversized silhouettes and cocoon-like proportions. Will the athlete match his new Super Bowl ring with one of Comme des Garçons Mens Spring 2017 translucent, plastic trench coats? Now that would be a fashion touchdown. What would Bill Belichick say of the getup?
This is not the first out-of-the-box co-chair selection for the Met Gala. In 2012, Amazon co-founder Jeff Bezos was honorary chair for that year's "Schiaparelli and Prada: Impossible Conversation," while last year's "Manus x Machina: Fashion In An Age Of Technology," counted Jonny Ive, Apple's chief design officer, as a chair, along with Taylor Swift and Idris Elba.
While other fashion-forward athletes—David Beckham, Carmelo Anthony, Amare Stoudemire and Victor Cruz— have attended the gala, it appears this is the first-time an athlete has co-chaired the event, not to mention a five-time Super Bowl champion.
Gisele Forever: A Supermodel's Career in Pictures
Gisele Bündchen for Vanity Fair, 2009. Photo © Mario Testino / Taschen.
Gisele Bündchen in "Hothouse Flower," photographed by Juergen Teller, styled by Jane How; W magazine June 2005.
Gisele Bündchen photographed by Juergen Teller for a Sonia Rykiel campaign, 2014. Photo © Juergen Teller / Taschen.
Gisele Bündchen for Vogue Brasil, 2015. Photo © Paulo Vainer / Taschen.
Gisele Bündchen for V Magazine, 2004. Photo © Inez and Vinoodh / Taschen.
Gisele Bündchen photographed by Mario de Janeiro Testino, 2001. Photo © Mario Testino / Taschen.
Gisele Bündchen for Pirelli Calendar, 2006. Photo © Mert Alas and Marcus Piggott / Taschen.
Gisele Bündchen in "Kiss the Sky," photographed by Mert Alas and Marcus Piggott, styled by Alex White; W magazine August 2008.
Gisele Bündchen, 2016. Photo © Taschen.
Gisele Bündchen, 2016. Photo © Taschen.
2016 Met Gala: Demi Lovato Gets Ready with W