Tom Cruise Will Actually Blast Off to Space Next Year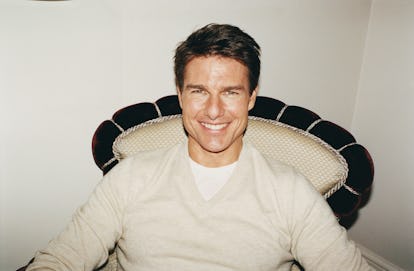 Juergen Teller
This time next year, Tom Cruise will likely not be sipping a latte and cozying up in a sweater, welcoming the first few chilly days of fall. Instead, he'll probably be strapping in to some sort of flight simulator to prepare for his October 2021 flight to outer space.
Around 20 years ago, Cruise and director James Cameron discussed some concepts for films to make in space. Earlier this year, it was confirmed by NASA Administrator Jim Bridenstine that Cruise was welcome aboard the Space Station to make a movie in space. And now, Deadline confirms that Cruise and director Doug Liman will be lifting off next fall.
The Space Station Almanac Twitter account also confirms that indeed, Cruise and Liman will join a SpaceX flight to the International Space Station in October 2021. They're listed as "Tourist 1" and "Tourist 2" for the Tourist flight underneath an illustration of a Dramchaser aircraft and SpaceX Crew Dragon aircraft. The name for "Tourist 3" remains vacant on the diagram, but perhaps it will be filled soon enough.
It's unclear how much of this film will take place in space, but it has been confirmed that Universal will spend a whopping $200 million on Cruise and Liman's collaboration with SpaceX founder and CEO Elon Musk.
When the space movie finally happens, it will be NASA's first narrative film. It's probably not going to be part of the Mission Impossible or Top Gun franchises, but Cruise will likely star in it. And if he's lifting off all the way to the ISS, then he might as well.
Related: Tom Cruise Is Trying to Shoot a Movie in Space (Again)